If you are a job-seeker and looking for a job as your convenient you may contact any listed placement consultant or recruitment consultant. So We have the list of the reputed Placement Agency in Pune which provide the best job for you. Here is the list of the top 10 Placement Agency in Pune.
1. Matrix Recruitment Consulting LLP
Matrix Recruitment Consulting LLP (MRC) is an organization established and running successfully since 2006 and providing end to end Human Resource Development services to organizations and to society at large across the globe.
Matrix Recruitment Consulting LLP (MRC) within a short spell of time has earned a reputation as one of the premier organizations in the HR realm as a provider of HR solutions to diverse companies ranging from Small and Medium-Sized Enterprises or SMEs to large corporations that included Fortune 500 companies.
Contact Details
Address : Off. No.519 5th floor, East wing, Aurora Tower, MG-road Camp, Pune: 411001
Phone No: 99701 30000
Email ID: [email protected]
Website: http://www.matrixrecruitments.com/
2. SevenMentor HR Services
SevenMentor Pvt Ltd is engaged in outlining designing and providing IT infrastructure, Coaching, an executive search agency in Pune, India, and Virginia, USA. We are now specialized in Placement Agency in Pune for entry-level, mid-level as well as peak-level executives. Being a firm noticed by superior client services, we offer one of the most comprehensive behaviors to recruitment, selection, and evaluation of the area we deal. Our extensive knowledge in the human resource field collaborates with our expert team of consultants and deep dive into specific industries for only the most uncommon, qualified, and talented candidates.
Contact Details
Address : Office No.21 and 25 A Wing, Shreenath Plaza, 1st floor Dnyaneshwar Paduka Chowk F.C Road, Shivajinagar, Pune
Phone No: 82370 91911
Email ID: [email protected]
Website: https://www.sevenmentor.com/
3. SRI Management Consultant and Placement Services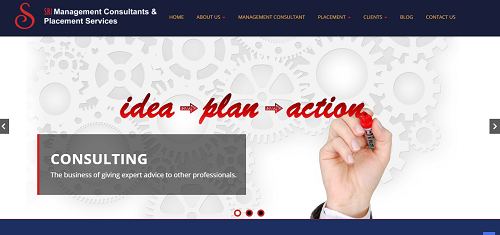 We are experts in our own area. SRI Management Consultants & Placement Services is a reputed name for more than a decade with its excellence in HR Services such as Legal advice, Outsourcing HR Function and Talent Acquisition. We believe that all are equal but some are more equal. The approach of SRI is blended with cross functional industry experience to serve the customers at right time, high value additions, effective delivery and with right price.
We are value based professionals with customer focused approach and better known as solution providers. Experienced team of professionals has made SRI - an island of excellence.
Contact Details
Address: 204, Ovalnest Co-op. Hsg Society, Off Mumbai Banglore Rd., Next to Aditya Garden City, Warje, Pune 411058 Maharashtra (India)
Contact number: 95525-27856
Email id: [email protected]
Website: http://sriplacement.com/index.php
4. Perfect Placement Consultancy
Established in 1995 by a techno-commercial entrepreneur, we have been catering to IT / Non-IT clients in India and other countries in the Gulf / African / European an American continents/countries for a selected clientele. Our major clientele is overseas.
However, we have succeeded in placing candidates with very small as large size companies by giving honest guidance and counseling to the candidates. We have been appreciated for our joining ratios by the clients. We have associates/freelance consultants drawn from various Technical / IT / Defense / Administration / Finance / Accounts / Banking / Marketing fields on whose expertise we depend on servicing various requirements received from our esteemed clients.
Contact Details
Address : Rohan Mithila, Bldg.No.E-7, Flat No.302, Airport Road,
Viman Nagar, Pune-411014.
Phone No: 9890833386
Email ID: [email protected]
Website: http://perfect-placement.com/
5. TechnoCorp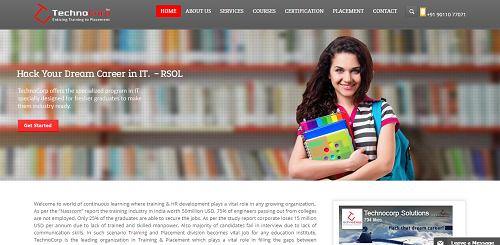 We have separate dedicate team for Placements. Placement cell works for all the placement related activities; taking care of placement inductions, mock interviews, GD, PI sessions, interview preparations by FAQ support systems, resume writing & providing 100% placement assistance after the completion of IT training. On regular basis technical workshops is arranged by our industry experts. So that students get familiar with latest Industry trends and expectations and accordingly they prepare themselves.
Contact Details
Address: 310, Kamla Arcade, 1204, Shivajinagar, J.M. Road, Balgandharv Chowk, Pune 411004.
Contact number: +912041267600
Email id: [email protected]
Website: http://www.technocorp.co.in/
6. Jaguar Consultants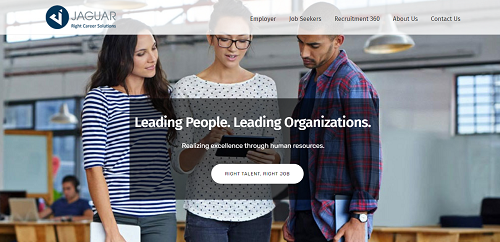 Jaguar Consultants, Pune is a Manpower Consultancy driven by uppermost standards of quality, reliability and commitment, while providing eminent professional recruitment services. Our team of consultants focus on recruitment and selection of senior, middle and junior level management employees for leading business houses. With Jaguar Consultants, you can be assured of reliable service and optimum career solutions.
Contact Details
Email id: [email protected]
Website: https://jaguarconsultants.in/
7. Paradise Placement Services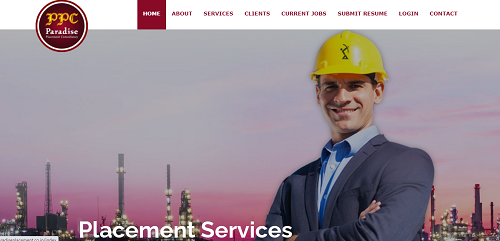 Paradise Placement Consultancy based in Aurangabad is engaged in providing Placement Services, Apprenticeship, and EPP Services to candidates. We have an expert panel of HR professionals who are well versed in connecting the right person with the right job. As an aspiring professional or an experienced one, you can approach us for the best job opportunities with reputed organizations across various sectors. We help candidates through all the procedures related to recruitment like negotiating the salary and terms, etc. As a part of our Placement Services, we also provide counseling to candidates, if required.
We are successfully recruitment employees in Automobile Industry, Pharmaceutical Industry, Sales & Marketing Industry, Company Account Department as well as staff members, etc., In past 5 years, We have already recruit many peoples in above industries under RPO service. Our PPC loyal with various Companies as well as Placement Services, Apprenticeship, and EPP Services in Maharashtra means our network across Maharashtra.
Contact Details
Address: "Sheetal Capital" Second Floor, Shop.No.11, Opp. YSK Hospital,
Chistiya Chowk , N-5 , CIDCO, Aurangabad - 431005 Maharashtra – India
Contact number: +91 9765567699
Email id: [email protected]
Website: http://paradiseplacement.co.in/index
8. Corporate Placement & Liaisoning Services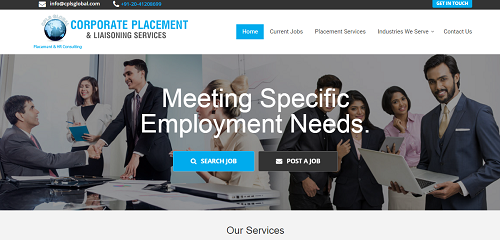 We, at Corporate Placement & Liaisoning Services (CPLS), are well-recognized as a prominent Placement Agency in India, operating from our registered office in Pune and Branch Office in Mumbai since 2009. Our aim is to see that quality manpower is constructively and appropriately channelized. In the process of achieving this aim, the talented and high-caliber job seekers are helped to build their own career and our clients find employees according to their specific requirements. CPLS is known for its highly experienced & well trained staff specialized in devising recruitment strategies with stringent benchmarks in evaluating, selecting & prominently identifying & sourcing the right candidates. All this is done through a defined process and from a highly filtered databank. Manpower requirements are met with ease, speed and high standards of professionalism. Our huge list of clientele shows the loyalty and faith of our clients in our Services.
Contact Details
Address: A-74, 3rd floor, KK Market, Dhankawadi, Pune, Maharashtra - 411037, India
Contact number: +91-20-41208699
Email id: [email protected]
Website: http://www.cplsglobal.com/
9. Shree Balaji Manpower Consultants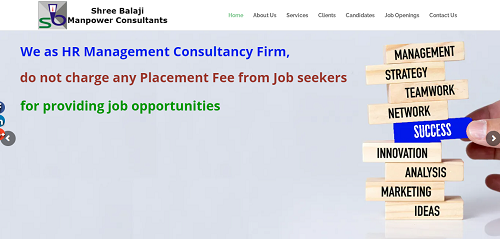 We would like to introduce Shree Balaji Manpower Consultants (SBMC) as a professionally managed Employment Agency & Search firm based in Pune, Maharashtra, India.
Shree Balaji Manpower Consultants commits to identify and recruit high quality applicants. Our approach is based on the simple belief that recruitment problems cannot always be resolved by pre-determined, packaged services but by bridging the gap between educated and talented job seekers and the employers. Right kind of people is the biggest asset for any organization.
We provide staffing solutions for Senior, Middle and Junior Management Level professionals. Our clients include large business houses and multinationals; PAN India, who are into Automotive, Logistics and Warehousing (3PL/4PL), Freight & Shipping, Engineering, Power, Real Estate, Chemical, FMCG, Consulting,  Information Technology, Media & Entertainment.
Contact Details
Address: Office No.366, B Wing, Jai Ganesh Vishwa, Vishrantwadi Chowk, Airport Road, Pune, Maharashtra, India– 411 015.
Contact number: +91 20 4123 1567
Email id: [email protected]
Website: https://www.sbmc.in/
10. Vijaya Management Services
Vijaya Management Services is one of the distinguished agencies that are actively involved in rendering excellent placement/recruitment services to the clients Pune (Maharashtra, India). Mr. Dayanand Maruti Patil (Owner) laid the foundation stone of the company in the year 2006 with a motive to fulfill all the recruitment/placement requirements of the job seekers and organizations. Under the supervision of our dedicated and diligent CEO, we have been able to uphold a client-centric approach in our organization. We ensure that our services not only fulfill but also exceed the expectations of our clients.
We offer a range of excellent services that include placement consultancy, HR/manpower recruitment consultancy, overseas placement/recruitment services, domestic placement/recruitment services, career consultancy, work at home/freelancing services, and housekeeping services. Moreover, we have years of expertise in this field. Therefore, we are providing placement or recruitment services to a large number of industries. You can contact us anytime for queries, as our customer care executives are available round the clock.
Contact Details
Address : 600, Krushna Business Centre,1st Floor, Behind Sai Service Petrol Pump, J.M. Road, Pune
Phone No: 9579239323
Email ID: [email protected]
Website: http://www.vijayamanagement.net/