If you are searching for the best placement or Recruitment Consultancies in Gorakhpur. So you are on the right page, here we have the reputed agencies who will provide the job according to you. If you are a job-seeker and looking for a job then you must register yourself and submit your CV. Here is the Top 10 Recruitment Consultancies in Gorakhpur with Address and Contact Details.
1. DEVANSH ENTERPRISES
DEVANSH ENTERPRISES  aims at ensuring utmost customer satisfaction with the services that are tailored to their specific requirements. DEVANSH ENTERPRISES is spurred to guarantee supreme fulfilments to its customers and build a long lasting relation.
Our team is very determined and concentrated towards proving the best possible facilities to the clients. DEVANSH ENTERPRISES is spurred to guarantee supreme fulfilments to its customers and build a long lasting relation. Our vision is to continuously create new opportunities for growth in our strategic business by providing highest quality services that consistently meet customer`s expectations. The basic mission of our team members is to provide superb value, high quality, prompt services with safety and achieving utmost customer`s satisfaction.
Contact Details:
Address : Shop No LGF-21B - Mangalam Tower Golghar Near Baldev plaza, Golghar, Gorakhpur
Phone : 9889443444
Email ID : [email protected]
Website : http://devanshjobhijob.com/
2. Add Way Jobs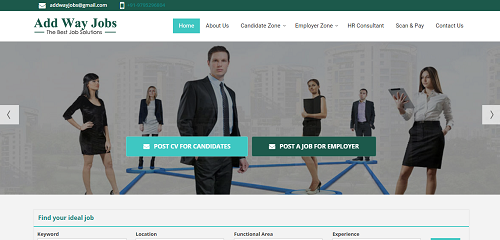 Add Way Jobs is an up-and-coming placement consultant in Gorakhpur. We are here to serve the placement industry of Uttar Pradesh. Add Way Jobs was founded in the year 2018 in Gorakhpur by Mr. Abhay Kumar Singh. He is been working hard for establishing the company with a sturdy base in the domain of placement. Today, we are one of the fastest growing placement firms in the state of Uttar Pradesh. Add Way Jobs is backed by a team of professional employees. Everyone is contributing to the success of the firm by fulfilling the jobs assigned to them. Due to this, different companies and job seekers approach us and we are spinning clientele on a daily basis. Being a placement consultant in Gorakhpur, we offer the affordable services of the HR consultancy, career consultancy, and manpower recruitment. All services are delivered by professionals according to industry standards.
Contact Details:
Address : Nagar Panchayat Sahajanwa,Gorakhpur, Gorakhpur, Uttar Pradesh - 273209, India
Phone : +91-9795296804
Email ID : [email protected]
Website : http://www.addwayjobs.com/
3. Golden Orchid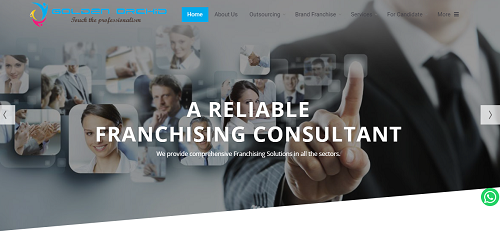 Golden Orchid focuses on diverse segments of business consulting and career making, started as a one-stop destination catering to varied requirements in the field of Startups, Brand collaboration, Career building and Make in INDIA Projects. Golden Orchid diversified its services up to outsourcing & consulting startups for setup their business across India along with providing a genuine and big platform to make franchise options available to investors. The company is a brain child of Mr. Sandeep. He is a dynamic entrepreneur with years of experience and ample knowledge of the working of the industry. Under his guidance, Golden Orchid has emerged as trusted name in India.
Founded in 2015 and led by a team of highly qualified professionals, with a passion for excellence in business startup sector and career making sector. Golden Orchid has focused on shaping the lives and careers of youth in five years of its existence with a team of qualified and experienced professionals to render our diverse services with utmost efficiency, transparency and professionalism. We have our presence across India from Lucknow to Delhi-NCR and Chandigarh to Ahmadabad, catering nearby areas of these cities.
Contact Details:
Address : 13/38, Near Munshi Pulia Metro Station, Lucknow.
Phone : +91-522-4961478
Email ID : [email protected]
Website : http://www.goldenorchidindia.com/
4. Asthajyoti Info & Placement Services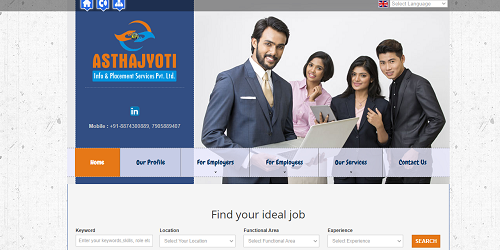 Asthajyoti Info & Placement Services Pvt. Limited is a five-year old placement firm in Uttar Pradesh. It was founded in the year 2013 in Lucknow. Shri Manoj Kumar Kanaujia is the CEO of the firm and established the firm with a mission of providing the best opportunities to all in the placement sector of Uttar Pradesh. Under his leadership, Asthajyoti Info & Placement Services Pvt. Limited is flourishing speedily. We are serving as a placement consultant, HR consultant, educational consultant, and career consultant in Lucknow. After expanding the business, we added the services of manpower recruitment, corporate training, security, and housekeeping. We are backed by full-fledged teams of professionals. All are engaged in serving the clients as per their requirement. Due to their consistent efforts, Asthajyoti Info & Placement Services Pvt. Ltd. has been successful in establishing a sturdy base and huge clientele in Lucknow and nearby cities.
Contact Details:
Address : 14/96 near RLB School, Munshi Puliya,Indra Nagar, Lucknow-226016, India
Phone : +91-7905889407
Email ID : [email protected]
Website : http://www.asthajyoti.in/
5. Elance Group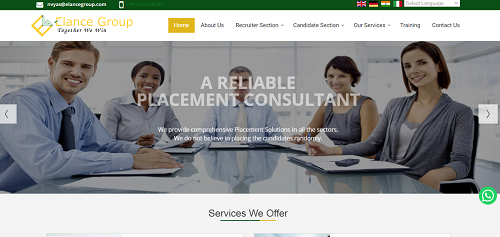 Elance Group presently specializes in catering to the HR recruitment and training requirements in the ITES, FMCG, Telecom, Pharma and Banking sector. Elance Group has been operational for past 9 years and is by far the fastest growing firm in this region, increasing its capacity in terms of client companies serviced, candidates attended to and its own work force. The brand name is undisputedly becoming the most well known and acknowledged and we are poised to become the undisputed leaders in this market in no time. The growth has been nothing short of explosive over time - the credit going to the strategic planning and implementation by the top management and the firms commitment to quality.
Contact Details:
Address : F No-1, Grnd Floor, Ekta Apartment, Near-mayank Hospital, 202 Wazir Hasan Road, , Uttar Pradesh, India.
Phone : +91-9335246291
Email ID : [email protected]
Website : http://www.elancegroup.in/
6. Xpress Careers Consulting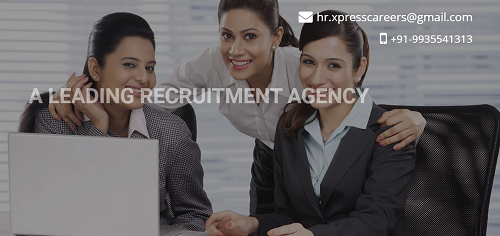 Our clients, people, partners and overall society are our significant stakeholders towards whom we are committed to be responsible, honest, respectful, accountable and transparent. Thus, we aspire to build: Through our workforce solutions we connect with the best kind of talent and clients with whom we have established continuing relations. Our role as a catalyst in the domain has helped us to create encouraging associations where we channelize and serve the best of interest.
Contact Details:
Address : Commerce Centre, Office No.312, 3rd Floor, CHUNNIGANJ, Gorakhpur
Phone : 9935541313
Email ID : [email protected]
Website : http://www.xpresscareersconsulting.co.in/
7. G&R Management Consultancy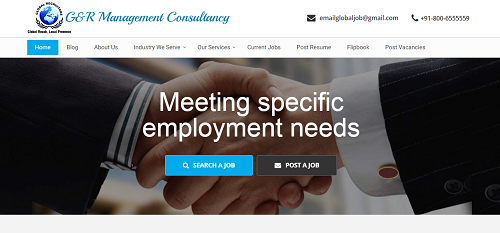 G&R Management Consultancy Pvt. Ltd. is a recruitment consultancy in Gorakhpur in the selection and recruitment of high caliber graduates and professionals for emerging markets. We have recruited for leading companies across emerging markets and take care of the whole recruitment process. Our innovative solutions are for companies looking to source individuals who possess that rare blend of international experience combined with regional understanding. Recruitment Summits held in key locations around the world. Our Summits allow you to streamline your international recruitments by conducting face to face interviews with candidates that are pre-selected to your specifications. Recruitment Campaigns benefit from a recruitment drive tailored to suit your individual needs that also allows you to effectively manage your budget. We offer a one fixed cost solution, with no hiring fees, translating into low costs per hire. We regulate a Search and Selection mechanism to a fully integrated service designed to recruit the perfect individual(s) for your specific businesses regardless of seniority or current location. Talent Pool Resourcing is an innovative service that provides you with a consistent pipeline to the best candidates available.
Contact Details:
Address : B-17, Ekta Nagar, Uttar Pradesh
Phone : +91-8006555559
Email ID : [email protected]
Website : http://www.grconsultancy.co.in/
8. Rama Infotech Pvt Ltd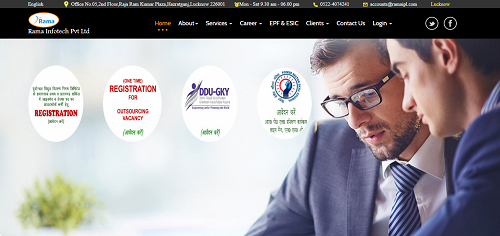 Rama Infotech Pvt Ltd is registered company at New Delhi. We are headquartered Lucknow with full fledged facilities to render effective Manpower Supply and deliver turn key Call Center Projects. RIPL(RAMA INFOTECH Pvt Ltd) is a management consulting firm specializing in Human Resource Out Sourcing to meet Supply requirement accurse several State Government Project needs.
We aim to provide Total Manpower Supply solutions to our esteemed clients with a customized focus on providing unique talent and Human resource fulfillment.
We are the vendor of choice for meeting manpower recruitment needs for the State Government of Uttar Pradesh and Government sponsored projects.
RIPL (RAMA INFOTECH Pvt Ltd) founded in 1998, started as exclusive and preferred solution providers for BSNL expanding their telecom footprint for in State of Uttar Pradesh. We have promptly met Supply requirements for several Government Projects in Large numbers, with a total of estimated 20,000 staff provided across the State as of date.
Contact Details:
Address : Office No. 05, Qazipur Khurd, Gorakhpur
Phone : 090565 45135
Email ID : [email protected]
Website: https://www.ramaipl.com/
9. Innov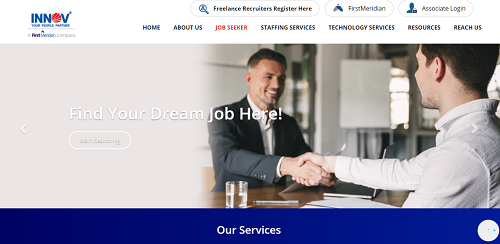 Established in 2004, Innovsource is a leading workforce solutions provider having fulfilled end-to-end HR needs of 1200+ customers spread across 15+ industry sectors since inception. Over the years, we at Innovsource have mastered the workforce business, focusing on every aspect, ranging from requirement mapping, sourcing, training & skilling, assessment, selection, onboarding, payrolling and statutory compliances.
Today, we provide employment to 70,000+ associates who are presently deployed in more than 1000 locations across India. We stand out for our exceptional customer service and technological advantage. Our business operations are end-to-end automated, ensuring speed, accuracy and excellence in service delivery.
Contact Details
Address: Apartment No B-1-02 Gulmarg Apartment, 5 Jopling Road (U.P)
Phone : +91 522 493 9350
Email ID : [email protected]
Website: https://innov.in/
10. Amax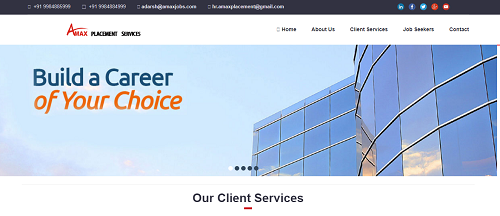 Our main emphasis is on giving the right fit to our clients at the right time. We act as a member of our client's team and assist them in their requirements as per their priorities. We understand the requirements well & know what will suit the best. We have a good network in industry to get the right candidate at all levels. We have developed innovative Recruitment strategies to make the process of recruitment accurate & fast. We have highly competent and dedicated professionals which gives our clients an edge in the current scenario. We use active and passive sourcing methodologies efficiently to deliver the unique candidates for our client requirements.
Contact Details:
Address : Kalpana Plaza,5th Floor,Office No 511 Near Kashi Jewellers, 24/147, Birhana Rd, Naughara, General Ganj, Gorakhpur
Phone : 9984885999
Email ID : [email protected]
Website : https://www.amaxjobs.com/