If you are searching for the best placement or Recruitment Consultancy in Bangalore for placement in the companies, so you are on the right page. We known the leading and reputed placement consultancy in Bangalore.
There is the Top 10 Placement or Recruitment Consultancies in Bangalore for the jobs.
1. Delight HR
Delight HR is a leading recruitment process outsourcing and consulting organization located in Bangalore. The company is managed by an experienced team of professionals who have served leading organizations worldwide. Established in 2011, Delight HR has helped more than 300+ clients in finding the right talent and helped more than 1200+ candidates to find their dream jobs since inception. Working across Industry Verticals and Functional Areas, we are trusted to deliver fast, efficient and caring service to clients and candidates alike.
Contact Details:
Address: #14, AJR Pride, 2nd Floor,27th Main, Sector 1 HSR Layout Bangalore
Phone:  +91 7899 62 3388
Email ID: [email protected]
Website: http://delighthr.com/
2. Inspiration Manpower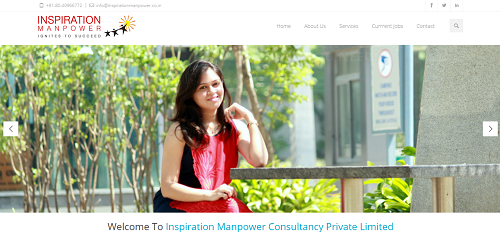 Inspiration Manpower consultancy Pvt Ltd is a name to reckon within consulting. We ignited to succeed on 15 th December 2008. Our major focus is on 100% customer service and provide consulting solutions across the globe, bymaintaining work confidential, excellent mapping, quick turnaround time, Accurate assessment, wide networking across all industries.
We are the management consultants, full equipped with end to end facilities for all our services we provide, we take the client to the next step in terms of their core target achievements. At IMC, we work with the clients and the prospects closely to help them over achieve their targets. We don't believe in being the leader or world leaders. We believe in consistent performance and improvement. Our major assets are people and want to deploy right people for the right job on thegiven time.
Contact Details:
Address: No 5, Lakshmi Complex, 3rd Floor, 10th Main,15th Cross, RMV Extension, Opp to CPRI,Bangalore - 560 080 INDIA.
Phone: +91 80 4096 6772
Email ID: [email protected]
Website: http://www.inspirationmanpower.co.in/index.php
3. B3 India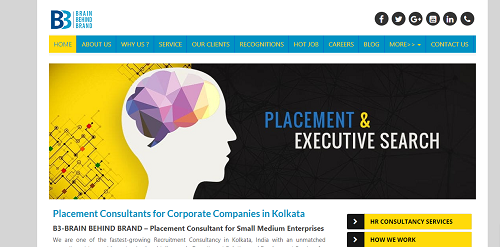 We are one of the fastest-growing Recruitment Consultancy in Kolkata, India with an unmatched commitment to provide customized and tailor-made Recruitment Solution and Employment Services for companies by analyzing and understanding the real need and requirement of our potential clients with the Placement, Executive Search, Manpower Consultancy in Kolkata, Head-Hunting & Referring Best Suited & Motivated professional(s) for the right assignment. B3 India is one of the top Organizational Development (OD), HR Outsourcing & Sales and Marketing Consultants in Kolkata. Being a trusted corporate recruitment firm and job consultancy in eastern India, our focus is always on offering reliable and affordable corporate HR consulting services in Kolkata. With a vast experience of over 10 years, we are a leading recruitment agency you can rely on for various industry segments.
Contact Details:
Address: Radiant Enclave, Flat #103 Suncity BSM Extension Kengeri Satellite Town Bengaluru, Karnataka 560060
Phone: 9831116047
Email ID: [email protected]
Website: https://www.b3india.com/
4. Talent Pool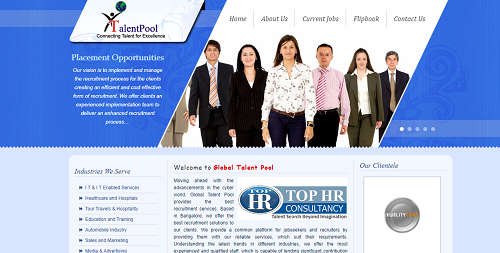 Since inception Global Talent Pool is engaged in providing the most reliable recruitment services to its valuable clients. The company has succeeded in meeting the requirements of the clients in all over India. The company is based in Bangalore, Karnataka. Our Strength:Our Team : Our team comprises qualified professionals who have strong rapport with Global Talent Pool and have experience in multiple disciplines including Human Resources, Technology, Sales and Marketing. Our team consists of highly ambitious knowledgeable and confident recruiters with great service attitude which is coupled with a desire to excel and innovate. Our Database : We have an ever-increasing database of qualified professionals from diverse fields. We gather our database largely through referrals and do periodic validations to maintain most current status of each candidate. Before referring a candidate against a position, we educate him about the hiring organization, job details, and selection process to make the hiring cycle smooth and informed.
Contact Details:
Address: No. 89, M.S. Ramaiah Main Road, Gokula, Near HDFC Bank Bangalore
Phone: +91-7975045572
Email ID: [email protected]
Website: http://www.gtalentpool.com/
5. 3Leads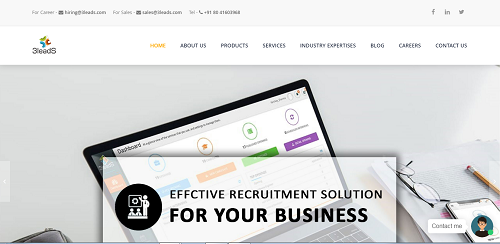 3Leads is a committed IT recruitment consultancy or in the other words let say providing IT augmentation services in Bangalore to our customers with the proficient, compelling set abilities. 3leads gives staffing to different kinds of services, for example, application improvement, testing, mobility, software and ERP services. 3leads gives answers to accomplish leap forward execution through the smart utilization of innovation and counselling. We provide answers to accomplish execution through savvy counselling. We provide recruitment consulting locally, Internationally, including gulf regions. Our aim is tobe in the hit rundown of the top 10 consulting firms all through India and abroad.
Contact Details:
Address: 351, 4th Floor Salarpuria Tower-1, Hosur Main Road, Near Forum Mall, 7th Block,Koramangala, Bengaluru, Karnataka - 560095
Phone: +91 (080) 4160-3968
Email ID: [email protected]
Website: https://www.3leads.com/
6. Seven Consultancy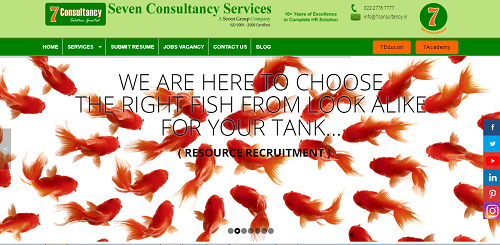 Seven Consultancy (A brand of HR Capsule LLP) is a result of the motivation of young entrepreneurship under the guidance of experienced professional from industry. Young entrepreneurs know the recent trends of market. Flexibility of the services has helped Seven consultancy to secure a brand name in the market. We have access to an overall Human Resource solution (HR Consultancy). Seven consultancy believes in shaping the way of success for its clients.
We are specialized in Recruitment Consultancy, Placement Consultancy, Manpower Consultancy & Job Consultancy. We are one of the Top HR Consultant in Mumbai, Navi Mumbai & Thane locality working in PAN India basis for more than a decade.
Journey of Seven Consultancy started in 2007. Now it has crossed many milestones and added many feathers in its crown. Currently having operation in different cities of India and abroad to provide solution to Human Resource domain to our clients. It made us trusted HR Consultancy in Mumbai, Navi Mumbai & Thane. We provide not only Resource Recruitment Services but also a complete Solution related to all the activities of Human Resource Management.
We have well defined customized HR Solution for different segments. We have received awards as Best HR Consultant in Navi Mumbai. We are conducting many surveys related to Best HR Consultancy in Mumbai. There are many HR Consultants participating in the surveys. All the Top Recruitment Consultancy in Mumbai and Top Placement Consultancy in Mumbai are well connected through a network in Surveys.
We are also providing customized recruitment solution for stat-ups being a partner as Recruitment Agency and Placement Agency. We are also helping our clients acting as Staffing Agency and Background Verification Agency.
Contact Details:
Address: No-164,2nd Main, 11th Block Nagarbhavi - II Stage Bengaluru-560072
Phone: 7208017778
Email ID: [email protected]
Website: https://www.7consultancy.in/
7. White Horse Manpower Consultancy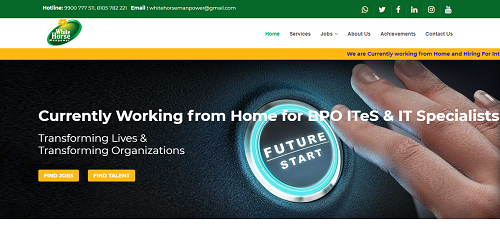 White Horse Manpower Consultancy P Ltd. registered under Company's Act 1956, in 2007 is one of the vibrant consulting firm specialising in BPO, KPO, LPO, ITeS domain.We are the preferred vendor for many of the fortune 500 clients in BPO/ BPM Domain, now venturing in Technology Domain as well.
It is a leading professional placement and talent search firm headquartered in Bangalore.
Contact Details:
Address:#12 Office 156, 3rd Floor, Jumma Masjid Golden Complex, Opposite to Kamat Hotel, Shivajinagar, Bangalore-560051, Karnataka, Indi
Phone: +91 - 9972020040
Email ID: [email protected]
Website: www.whitehorsemanpower.in

8. ICS Consultancy Service

A survey conducted by our team across corporates in the country has shown that the IT industry in India will face a shortage of "Qualified IT professionals" over the next 10 years. It is suggested that the industry will need a workforce which is qualified to take up new challenges to keep up with demand as business and government increase investment into technology, communications, and data management systems. We are trying to help in bridging the gap by connecting the qualified professionals with the best matching role for them in the industry.
It is our business mission is to be adjunct to 'learning' organizations and develop a mutually beneficial relationship. Like-minded professionals assist us in our efforts across the country. We work combining the organization's perspective and candidate's career interest. Our professional and ethical business associations with our clients and candidates help us build long-term relationships with our clients and candidates drive us towards structuring need-based solutions for organizations.
Address: 1/A, Church Street ,Bangalore 560 001
Phone: 91-80-4152 8787 / 4152 8788
Email ID: [email protected]
Website: http://www.icsconsultancy.com/
9. Sri Rajarajeshwari and Company