Goa is the best Destination for the holiday or vacation. In Goa, there is many water sports like Scuba diving and other water sports. Sucba Diving is most popular water sports in Goa. So find the best scuba diving in Goa. Here is Top 10 Scuba Diving companies in Goa.
1.  Sea Water Sports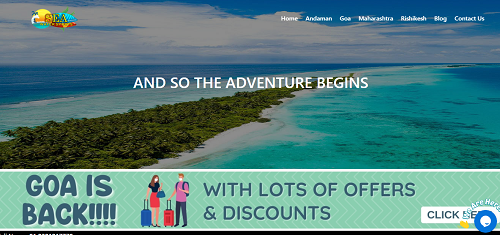 Twenty years from now you will be more disappointed by the things you didn't do than by the ones you did do. So Explore, Dream & Discover. Fill your life with adventure activities in goa, not things. Have stories to tell not stuff to show. Then after Twenty years, when you least expect it, the great adventure finds you. After all, life is either a great adventure or nothing.
Contact Details
Address : 101, Angelos Guest House, Near PR Enterprise, Saunta Vaddo Next to Britto's, Baga Beach, Bardez, Goa, Baga, Goa-403516
Contact : +91 8291917770
Email Id : [email protected]
Website : https://www.seawatersports.com/
2. Sofine Tours and Events
Sofine Tours and Events feels that nothing beats personalized service, experience, and attention to detail. While many Internet sites promise special deals, travelers are often unaware of restrictions, exceptions and fine prints. Making the right choices based on price alone is not always the best course of action for travelers.
We at Sofine Tours and Events recognize the need for experienced travel agent's personalized attention. We understand that travelers appreciate the values of a full-service travel agency. Many travelers learned that they actually saved money by seeking the help of an experienced travel professional.
Sofine Tours and Events has a team of professional and experienced personnel ready to assist your travel and event needs. Their knowledge of the product or service they provide is of the highest quality.
Contact Details
Address : G1, Bhal Tara Niwas Alto Porvorim North Goa – 403521
Contact : + 91 7887822282
Email Id : [email protected]
Website : http://sofine.co.in/
3. Atlantis Watersports
Established in 1993 Atlantis Watersports has carved a niche for itself in the world of water sports, tours and excursions to provide unmatched experiences and inspiration for travelers flocking to India's sunshine state – Goa. We believe that good service and kind hospitality combined with affordable prices bring satisfaction, happiness to our guests and we continue to enjoy un-paralleled goodwill from them, resulting in 80% of our regular clients being either repeats or referred to, by our existing clients.
We offer a wide range of watersports and tour packages in Goa. Fun and thrilling activities like Scuba Diving, Flyboarding, Bungee Jumping, Parasailing and Jet Ski. Tours to places like the beaches, the Churches and Dudhsagar Waterfall. Boat trips to Grande Island, Houseboat stays and so much more.
Contact Details
Address : shop No.12, Simplex Chamber, Umta Waddo, Nr.Baga Circle, Next to RBL Bank, Calangute, Bardez, Goa -403516
Contact :  9607904114
Email Id :  [email protected]
Website : http://www.atlantiswatersports.in/
4. Goa Water World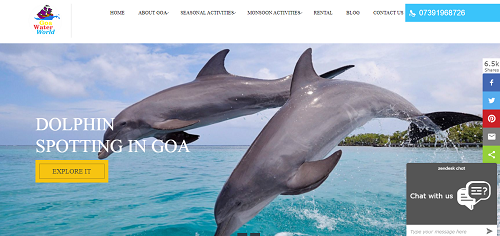 Sincee 1991 Goa Water World has been offering the best packages for tours in Goa. Being one of the most well known companies in Goa, Goa Water World provides tour packages in affordable rates for travellers in Goa. Goa water world is an online portal for travel and tourism in Goa that offers online bookings for various activities in Goa. It is a travel agency & tour operator in Goa.
Goa water world offers activities like scuba diving in goa, snorkeling in goa, grand island trip in goa, water sports combo pack in Goa, parasailing in goa, boat trip in goa,banana boat ride in goa, bumper ride in goa, boat ride in goa, butterfly island trip in goa, sightseeing tours in goa, crocodile trip, dolphine trip, fishing trip in Goa, Waterfall (dudhsagar) trip in Goa, Spice plantation trip in goa, visit to famous places in goa and other day trips for travelers in Goa.
Contact Details
Address : Shop No. 5, Verekar Complex, Calangute Beach Road, Goa, 403516
Contact :  07391968726
Email Id : [email protected]
Website : https://www.goawaterworld.com/
5. Shanti Divers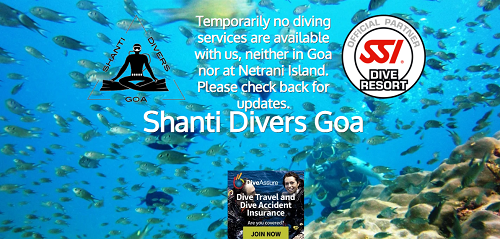 Gabor, the founder of Shanti Divers was born in Hungary, a landlocked country and started diving in the year of 2003 and immediately got obsessed with the sport. After diving at many locations of the world he decided to go professional in scuba diving. He became a PADI Divemaster by the end of 2004.During the following years he completed two seasons in Croatia and than studied and worked in Thailand where he received his PADI Open Water Instructor and Emergency First Response (CPR) Instructor degree in 2008.Gabor than became Specialty Instructor in man different specialty area, including Night, Underwater Navigation, Search and Recovery, Wreck, Deep and Enriched Air (Nitrox) diving. Based on that in 2012 he upgraded to PADI Master Scuba Diver Trainer and in the same year he crossed over to SSI (Scuba Schools International) and started actively teaching diving in this system at first in Cambodia.After working as well in India at many locations, including Goa, Murudeshwar (Netrani Island), Mumbai and Havelock in the Andaman and Nicobar Islands Gabor gained significant experience regarding the needs of the Indian market and he decided to open his own Dive Center in 2017.
Contact Details
Address : Neptune Point Beach Resort, Palolem Beach, Canacona, Goa, India403 702
Contact : +91 7378940698
Email Id : [email protected]
Website : https://www.shantidivers.com/
6. Boat Goa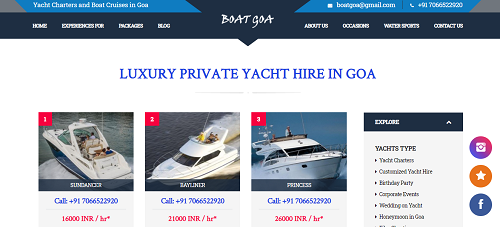 Boat Goa provides magnificent yachts for special events and luxurious holidays in Goa. Yacht rides in Goa can prove to become an unforgettable experience thus turning an average occasion or holiday into a magical one. So if you want some lively board meetings in Goa then bring your partners on yacht.
Imagine being on the sea with your near and dear ones or friends and colleagues, the boat being cradled by the rhythmic waves amidst the scenic beauty of Goa. Our company understands how special these moments are and thus strive to make it an exotic experience. A boat cruise charter provides an experience which cannot be replaced by the usual events or parties held in banquets and hotels. We understand that finding a perfect luxurious yacht for an event is not cake walk so our crew looks after all your requirements and suggest the perfect yacht for rental in Goa.
Contact Details
Address : Britona Yacht Station After Deltin Palms Hotel Penha Bardez, De Franca Curch, Britons, Virlosa, GA 403101,India
Contact : +91 7066522920
Email Id : [email protected]
Website : http://www.boatgoa.com/
7. Goa Darshan Tour & Travels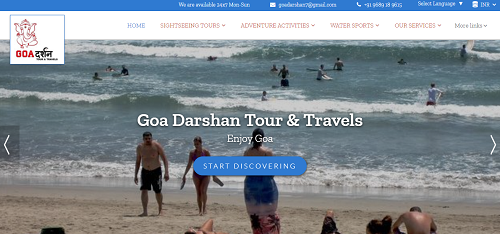 To travel is to live, and so we believe in at Goa Darshan Tour & Travels. We successfully completed many years in the travel industry specializing in offering travel services in Goa, to a wide spectrum of satisfied and repeat guests. We are proud to be accredited with apex bodies and prestigious travel associations. Our ethos - from the conception of swan tours till date, remains the same "customer service with a smile" !
We believe that success is measured by the number of satisfied customers and that is always been our endeavor. Arranging for a sophisticated and hassle-free tours and travels has always been an art as it involves plenty of distinct activities such as reserving a seat on some airliner or sea-liner, room booking in world class select hotels, pick and drop from city's entry and exit points, sight-seeing and shopping excursions and so on.
Contact Details
Address : Opp Mira Hotel, Near Kyriad Prestige Hotel, Near to Baga Circle, Calangute, North Goa, Goa-403516, India.
Contact : +91 9922 34 6664
Email Id : [email protected]
Website : http://www.goadarshan.net/
8. Goa Safari Adventure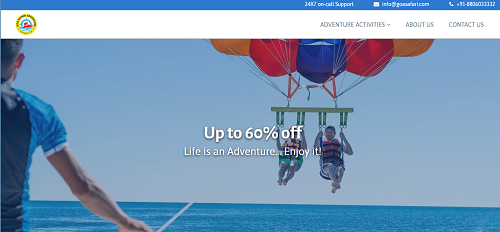 Anyone can dream a great vacation. But it can be hard work to make it happen — and to find a travel company who truly specializes in your trip. At Goa Safari Adventure, we carefully select the Goa's best at all segments of Hospitality.
We believe in open and honest communications – and no hidden agendas. We believe that everyone will "do the right thing" and act with integrity and fairness We respect each other's time and effort We treat others the way we want to be treated We are always here to help each other experience the best in travel We're committed to ensuring your happiness and comfort throughout.
Contact Details
Address : ​5​/​3C, ​Maddo Vaddo, Calangute, Goa 403516
Contact : +91-8806033332
Email Id : [email protected]
Website : https://www.goasafari.com/
9. Scuba Dive Goa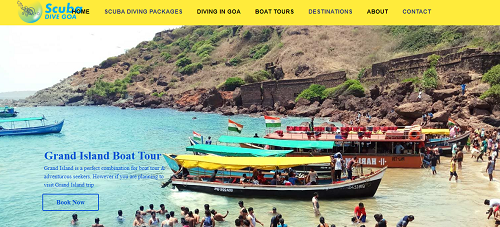 Scuba diving in Goa is an activity with which you can not only take a look at the oceanic beds but can also witness the underwater kingdom. Right from the vibrant variants of marine life to the excellent range of diving spots, here you can pick as per your requirements and create everlasting memories with your friends and family. Be it the good climatic conditions or the affordable diving options, here you can find them all. Gape at the coral reefs of ocean depths and become a certified PADI diver. Whether you are a non-swimmer or a beginner you need not worry as a few sets of instructions are just enough for you!
Scuba Diving Goa conducts all scuba trips and courses like the Advanced Open Water or Adventure Diver Certification. These centers provide the scuba trip with or without the training. Scuba Diving is a multi-location water sport being offered at various places.
Contact Details
Address : ​Vanessa Theatre Shopping Complex, Doctor Afonso Road Calangute, Goa 403516
Contact : 866-988-0999
Email Id : scubadivegoa[@]gmail[.]com
Website : https://scubadivegoa.com/
10. Grand Island Goa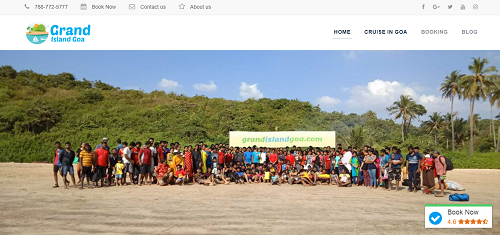 Since the day of our establishment, we are recognized as a top-notch organization facilitating travellers with unmatched experiences. Our team of experts is just a single call away from you. Thus, you can ask for travel assistance as and when you require. Grand Island Tour has a good number of activities that a tourist can participate in. These include scuba diving, snorkelling, island tour, party boat trip, dolphin watching and the engaging boat ride. We are a pioneer in providing an array of cruising services to those who need good aid in planning their tour to Grand Island.
We have always promised unlimited excitement accompanied with cherished memories for a lifetime! Mentioning about the finest boat tour agency, nothing can be compared to the plethora of packages provided by Grand Island Goa. We not only offer Grand Island trip but our expertise also lies in a good number of boat tours in Goa. These are Grand Island Trip, Adventure Cruise, Dolphin Watching Boat and the very interesting Bat Island Tour. The list hasn't ended here yet. We are also known for containing thrill filled water sports in Goa. Such activities are divar Island water sports, snorkelling, Adventure boat party with Water Sports and Scuba Diving in Goa.
Contact Details
Address :near Old Petrol Pump, Khobra Waddo, Calangute, Goa 403516
Contact : +91 788-772-5777
Email Id : grandislandgoa[@]gmail[.]com
Website : https://grandislandgoa.com/