If you are finding the job or best placement consultancy in Varanasi. So you are on the right page, we have the list of the reputed placement consultancy in Varanasi. If you are a job-seeker and looking for a job you should be register yourself and submit your CV. Here is the list of the Top 10 Placement or Recruitment consultancy in Varanasi.
1.GS Job Point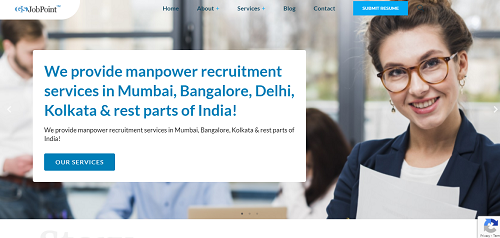 We are here to provide the best range of solutions to both prospective employers and employees. To provide best quality from talent pool to the employers, and help to place the right candidate at right time, we provide search at all the levels Senior, Middle and Entry level positions. We have our service network pan India, with offices in Delhi, Lucknow and Bangalore.
Our recruitment process begins with arranging interviews of candidate for the requirements sent by our recruiters. Short listed candidature list is forwarded to the specific client for approval. Approved candidates further undergo screening and other tests. If a candidate qualifies all the recruitment stages, he is provided with offer letter for the position and a job is assigned to him.
Contact Details
Contact: (+91) 9235-657-522
Email Id: [email protected]
Website: https://www.gsjobpoint.com/
2. Training & Placement Cell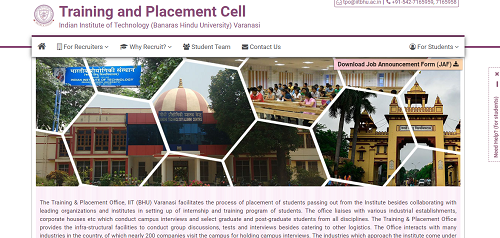 The Training & Placement Office, IIT (BHU) Varanasi facilitates the process of placement of students passing out from the Institute besides collaborating with leading organizations and institutes in setting up of internship and training program of students. The office liaises with various industrial establishments, corporate houses etc which conduct campus interviews and select graduate and post-graduate students from all disciplines. The Training & Placement Office provides the infra-structural facilities to conduct group discussions, tests and interviews besides catering to other logistics. The Office interacts with many industries in the country, of which nearly 200 companies visit the campus for holding campus interviews. The industries which approach the institute come under the purview of: Core Engineering industries IT & IT enabled services Manufacturing Industries Consultancy Firms Finance Companies Management Organisations R & D laboratories.
Contact Details
Address: Indian Institute of Technology (BHU) Varanasi, India - 221 005
Contact: +91-542-7165958
Email id: [email protected]
Website: https://www.placement.iitbhu.ac.in/
3. Bhartiya Security Guard And Services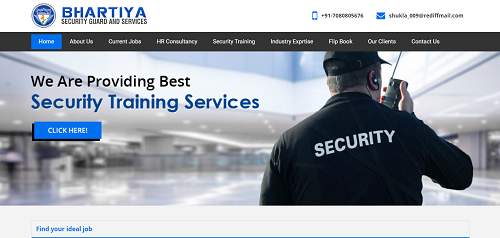 Bhartiya Security Guard And Services is a name that is counted amongst the trustworthy Placement Agencies in Allahabad, Placement Consultancy in Allahabad, Best Placement Agency in Allahabad, (Uttar Pradesh, India). Our company is actively involved in rendering dependable solutions for facilitating diverse placement and recruitment requirements of various organizations and job seekers. Mr. Virendra Kumar (Owner) laid the foundation stone of the organization in the year 1994 and since then, we have been catering to a large number of industries most efficiently.
We stringently follow the Private Security Agencies Regulation Act 2005 during our selection and recruitment procedure. Moreover, we have ISO 9001: 2008 certification, which makes us a globally accepted fraternity. In addition to this, we abide by a straightforward recruitment procedure including background checks and police verifications in order to offer excellent manpower for the growth of your company. Our comprehensive range of services are inclusive of work at home services, HR consultancy services, security training, body guard services, recruitment services, housekeeping services, and gunman security services.
Contact Details
Address: 240-A, Chakniratul, Allahabad, Uttar Pradesh - 211016, India
Contact: +91-7080805676
Email id: [email protected]
Website: https://www.bhartiyasecurity.co.in/
4. G&R Management Consultancy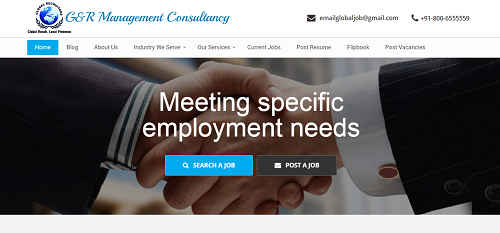 G&R Management Consultancy Pvt. Ltd. is a recruitment consultancy in Varanasi specializing in the selection and recruitment of high caliber graduates and professionals for emerging markets. We have recruited for leading companies across emerging markets and take care of the whole recruitment process. Our innovative solutions are for companies looking to source individuals who possess that rare blend of international experience combined with regional understanding. Our Services:- Recruitment Summits held in key locations around the world. Our Summits allow you to streamline your international recruitments by conducting face to face interviews with candidates that are pre-selected to your specifications. Recruitment Campaigns benefit from a recruitment drive tailored to suit your individual needs that also allows you to effectively manage your budget. We offer a one fixed cost solution, with no hiring fees, translating into low costs per hire. We regulate a Search and Selection mechanism to a fully integrated service designed to recruit the perfect individual(s) for your specific businesses regardless of seniority or current location.
Contact Details
Address: B-17, Ekta Nagar
Contact: +91-8006555559
Email id: [email protected]
Website: http://www.grconsultancy.co.in/
5. PSALM CONSULTING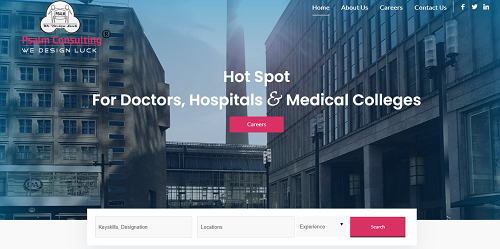 We are Medical recruitment consultants in Varanasi, serving pan India since 2012. As an organisation to highlight our emphasis on these principles, we have put our name as "PSALM CONSULTING". The name "PSALM" means the hymns of bible and over a period of time. It has come to mean anything pure and sacred.
Given our combined experience of more than 50 years in recruitment, our expertise and network with doctors would be of value for any organisation. We strongly believe in building relationships based on the principles of morals, ethics and transparency.
Contact Details
Address: 1st Floor, Saraswati Towers, Opposite Gandhi Ashram, Kambal Ghar Lanka, Varanasi, Uttar Pradesh, India 221005
Contact: +91-9235502824
Email id: [email protected]
Website: http://www.psalm.in/
6. Space Consultants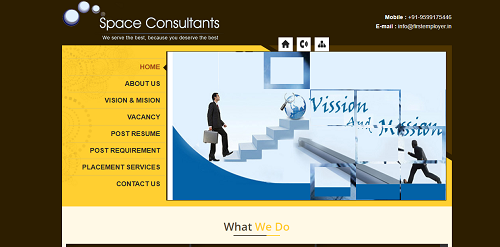 Space Consultants (Noida) help you discover the best talent for your company. Finding skilled resources and retaining them is a challenge that many companies face. Established in 2001, we at Space Consultants, with over eleven years of experience in Recruitment and HR services, help you find the right candidates for your company, partner with you in maximizing potential of your human capital and optimizing your HR processes. The company has branches in places like Ghaziabad, Faridabad, Gurgaon, Delhi and Hyderabad. As the company slogan states - We serve the best, because you deserve the best, is what we believe in, here at Space Consultants.
Contact Details
Address: Alpha 2, Greater Noida, Uttar Pradesh, India - 201310
Contact: +91-9599175446
Email id: [email protected]
Website: http://www.firstemployer.in/
7. JVS Solutions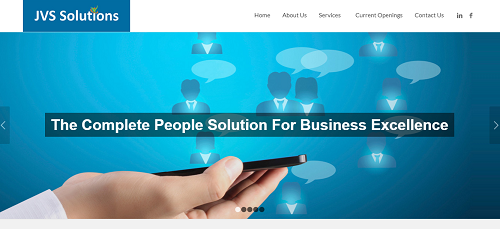 We introduce JVS Solutions as one of the most reputed and professionally managed HR Placement Consultants in Varanasi. We provide reliable & productive HR Solutions to our valuable clients. A well managed HR Management Company striving to excel & deliver prompt HR solutions to our valuable clients. We have a mature team of experts from different strata of business to evaluate tasks from various perspectives.
JVS Solutions – India's registered HR Management Company established in 2009 by the team of HR Professionals.
Contact Details
Address: Unit No. 3(A), 4th Floor, Shakumbhari Complex, Bhelupur – Durgakund Road, Varanasi – 221005.
Contact: +91-9235414111
Website: http://www.jvssolutions.in/
8. Vyom Enterprises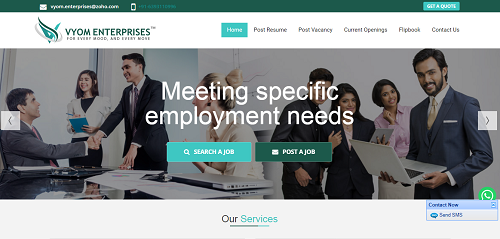 Vyom Enterprises is a placement agency with its registered office in Panchkoshi Marg (Varanasi, Uttar Pradesh, India) and branch office in Mahmoorganj (Varanasi). Our company is engaged in providing placement services like placement consultancy, business field consultancy, HR consultancy, recruitment consultancy, security services, training & development services, and cash management supporting services to various organizations. Apart from this, we provide reliable career consultancy to the job seekers.
Mr. Gaurav Awasthi (Owner) laid the foundation stone of the company in the year 1998. Under his guidance, we are operating as manpower resources enterprise and career consultants. We understand the complications of managing the human resource and strive to improve its efficiency
Contact Details
Address: Human Resource Institution Plot No - 63/6B - 70, Shivji Nagar, Mahmoorganj, Mahmoorganj, Varanasi, Uttar Pradesh - 221010, India
Contact: +91-5842-238798
Email id: [email protected]
Website: http://www.vyomenterprises.co.in/
9. Ral Job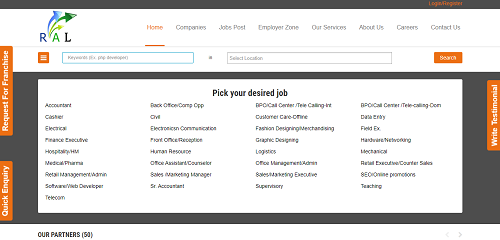 Raljob.com is India's most innovative and fastest growing recruitment portal. Launched in 2012, within a short span, Raljob.com has overcome all odds it was subject to and has specially focused on creating employment opportunities in small and medium cities. RAL JOB has focused on elevating talent and skills of aspirants from non metros who otherwise would have stayed as underdogs. But now with this innovative approach of RAL JOB not just jobseekers from non metros are at benefit, but even companies who have always struggled for right manpower in non metros are benefiting by finding the correct match for their jobs.
Today Raljob.com is changing the landscape on hiring, by integrating Facebook hiring. Raljob.com now enables a recruiter to reach out to the personal network of employees and their connections, thus giving him access to a vast network of good quality candidates. It also offers better relevance of results through its database of candidates, delivered through its unique 2-way matching technology, which helps candidates get the jobs they deserve and helps recruiters hire faster.
Contact Details
Address: CK-65/40,Badi Piyari, Near Kabir chaura,Varanasi-221001
Contact: 0542-2414078
Email id: [email protected]
Website: http://www.raljob.com/index.php
10. Rojgaar Sangam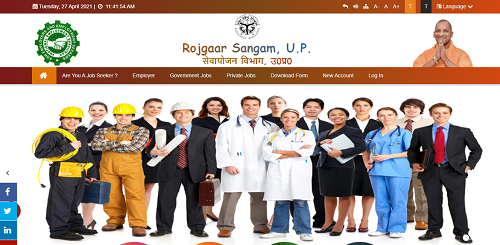 On the end of Second World War in 1945, for ordely absorption of the released service personnel and other war workers; The need for an organization to handle this complex problem in a uniform manner was and in July 1945 "Directorate general of Resettlement and Employment" was set up.A Training and Employment service organization committee (popularly known as Shiva Rao committee) was appointed in 1952, under the chairmanship of Shri B. Shiva Rao. Based on the recommendations of the committee, the day to day administration of the organization was handed over to the state governments with effect from 1st November 1956.To make Employment offices more effective the Indian Parliament passed an Act called the compulsory notification of vacancies Act 1959 in the year 1959 and it was implemented all over the country in 1960 (except J&K).At present there are 90 Employment Offices working under Department of Training and Employment in Uttar-Pradesh, out of which 18 are the Regional Offices situated in the Head-quarters of all commissionaries 57 District Employment Offices, 13 University Employment Bureau, 01 town Employment offices and 01 professional education Employment Offices in U.P. along with this 52 Coaching cum Guidance Centre are being conducted to enhance the Employbility of the weaker section of society viz.SC /ST,OBC classes and differently abled.
Contact Details
Contact: 91-7839454211
Email id: sewayojan-up[atr]gov[dot]in
Website: http://sewayojan.up.nic.in/Default.aspx