Here is the list of the Top 10 Placement Agency or Recruitment Consultants in Delhi who provide the best Services or best jobs for you. If you are a job-seeker and looking for a job ,so there are the Agencies which will help you to provide the jobs according to you. List of the placement Agencies in Delhi who provide the best jobs for you.
1. ABC Consultants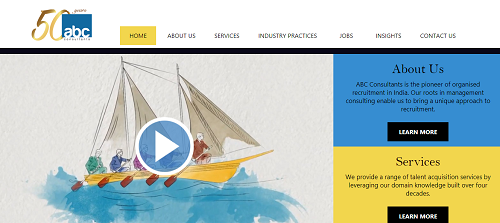 ABC's roots in management consulting enable us to bring a unique approach to recruitment at the middle and senior management levels. We recruit across various industry segments for multinational corporations as well as leading Indian business houses and have helped shape the careers of over 1,65,000 professionals over our 50-year history.
Our network includes 9 offices spread across 8 major Indian cities. We have over 465 consultants who have over 2800 man-years of experience with leading Indian and international companies and operate within domain-specialist teams spread across the country, providing customized recruitment solutions across 24 industry practices. ABC is proud of its long-standing relationships in the industry and the fact the 75% of our business is in the form of repeat business from existing clients is testimony to the quality of work we do.
Contact Details
Address : 1st Floor, Eros Corporate Tower, Nehru Place, Delhi 110 019
Contact Number: 91 22 6662 3700
Email ID: [email protected]
Website: https://www.abcconsultants.in/
2. Reinforcement Consultants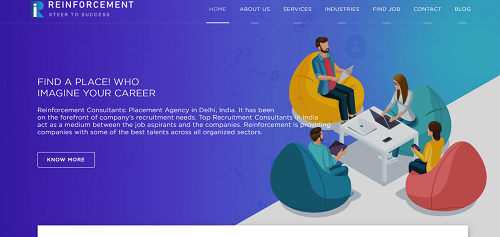 Reinforcement is providing companies with some of the best talents across all organized sectors. Strictly driven by the concept of bringing peoples together, our aim is to foster growth of companies through timely execution of their hiring goals. We go hand in hand with companies & candidates throughout the hiring process until the last candidate is hired. With the availability of vast array of talent, companies have more convenience of picking up right candidate as per need.
We clearly understand that in today times organizational functions are mainly dependent on technology & multitasking is key to Growth for any company or candidate. Our every pursuit towards becoming company's only recruitment channel partner resonates with the same philosophy & help companies to hire some most productive & result oriented talent across the Industry. Regarded as one of the top placement consultant in Delhi, Reinforcement has demonstrated exceptional performance in providing customized hiring solutions to the multifunctional task requirements of the companies. We are committed to maintain the same level of perverseness & continuity for our esteemed clients.
Contact Details
Address : C-1, Bindapur Matiala Road, Uttam Nagar, New Delhi - 110059
Contact Number: +91-7065 334411
Email ID: [email protected]
Website: https://www.reinforcementconsultants.com/
3. A.J. Placement Consultants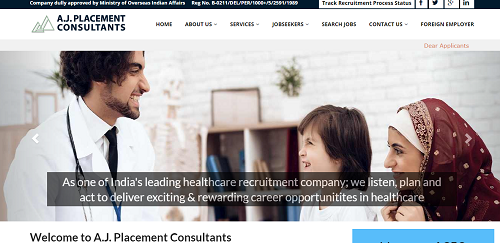 A.J. Placement Consultants is a trusted Placement Firm, catering to the manpower needs of diverse verticals across the world. The foundation stone of the company was laid in 1989. We have developed expertise in providing comprehensive Recruitment Solutions as per the need of the client's. We have been dully approved by Ministry of Overseas Indian Affairs, Government of India, Vide registration No. ( B-0211/DEL/PER/1000+/5/2591/1989 ) and registered with prestigious International Bench-marking & Certifications ISO 9001:2008 (QMS)

We take pride in introducing ourselves as one of the leading recruitment company in Delhi, actively engaged in overseas manpower recruitment catering to all categories of work force such as  Doctors, Staff Nurses (Male & Female), Non-Physician Technicians, Engineers, Professionals, Skilled & Unskilled manpower to various critical core industries such as Healthcare, Construction , Oil & Gas, Manufacturing Industries, Power Plants ,Infrastructure Development including high-rise buildings, Hotels and Hospitality for our clients  in Gulf countries and UK.
Contact Details
Address: G4 & G5, Pragati Tower , 26, Rajendra Place, New Delhi- 110008 ,India
Contact Number: +91-11-47631000
Email ID: [email protected]
Website: http://ajplacement.com/
4. Om Sai Group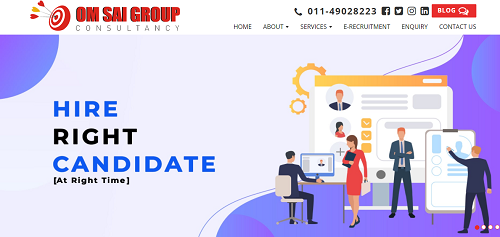 Om Sai Group Consultancy is a well-experienced placement HR consultancy solutions with service offerings which include recruitment process outsourcing, managed recruitment services, search services, staffing services and support services. Our consultants follow a rigorous HR-led recruitment process to identify the most suitable candidates, whilst delivering a professional and personable customer experience to both employers and candidates.
We keep on working within the faster-paced, challenging environments with a simple, straightforward decision-making process, greater levels of responsibility and more varied. With our team of dedicated staff, caring management, it aims to provide professional, efficient, effective, sincere services to applicants seeking better overseas jobs and opportunities, and to our overseas Principals seeking best candidates, service, and support.
Contact Details
Address: 2251, 3rd Floor, Kapashera, New Delhi-110037
Contact Number: +91 9266662009
Email ID: [email protected]
Website: https://www.omsaigroupconsultancy.com/
5. ABHASS CONSULTANCY
Creating an effective link between the organization and the job seeker, at Abhass Consultancy, we provide the clients with the brightest and the best candidates according to their specific requirement. Also, we provide the candidates with the opportunity of working in reputed companies by placing them according to their job interest and eligibility. Located in Kanpur, Uttar Pradesh, we are one of the leading Placement Consultants In Delhi and recruitment companies involved in process of offering world-class HR services such as Training & Development Services, Placement Services In Delhi and Maid Services.
Established in the year 2007, we have already made our mark in the placement and recruitment industry by providing efficient, reliable, consistent and prompt services to our clients across the industry. Operating mainly in Kanpur, Lucknow and in Delhi NCR region, the main goal of the company is to ensure professionalization of highest standards while providing services to the clients. By evaluating and identifying the best human capital, we are able to provide the clients with the best manpower solution that will help in growth and development of the company.
Contact Details:
Address : LG-14, 55-A, Siddharth Chamber, Kalu Sarai, Near IIT Gate, Delhi - 110016
Phone : 9318567888
Email ID : [email protected]
Website : http://www.abhassconsultancy.com/
6. Jobwala99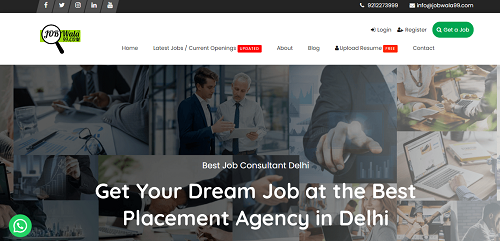 We are your trusted placement consultants in Delhi, having vast experience in catering to the recruitment needs of companies from all the leading industries. We are focused on addressing the demands of a growing competitive marketplace where organisations need the most suitable candidates to remain relevant and efficient.
As one of the Top Placement Consultants in Delhi, we have developed and effective screen process to help our clients find the right talent. Over the years, we have emerged as a preferred talent acquisition partner to both Indian businesses and multinationals in the Delhi NCR region. We are also a trusted consultant for job seekers, having helped thousands of professionals find the optimal positions commensurate to their qualifications and experience.
Contact Details:
Address : C-1/101, 3rd Floor, Opposite CNG Station, Sector - 11, Rohini, Delhi - 110085, India
Phone : +91-9311273999
Email ID : [email protected]
Website : https://jobwala99.com/
7. First Choice Consultant Service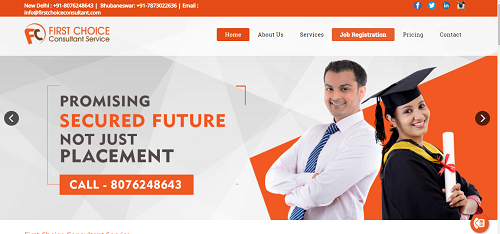 First Choice Consultant Service is the Leading Placement Agency in Delhi/NCR by Offering a Wide range of Services including Recruitment Agency, Direct Job Placement Services, Contract Staffing Solutions. We have a huge Team of Professional Recruiters, who work as per Client's requirement and gives a Qualitative Employees.

We have Extensive Experience in IT/NON-IT Industry, Manufacturing, Automation, Logistics, Hotel/ Hospitality, Education and BPO/KPO Industries. We works in a Vibrant and Growth Oriented Environment. First Choice Consultant Service is one of the most prime Recruitment Consultants in Delhi. It's Head Quarter is in New Delhi and Currently Serving more than 500 Companies for their Manpower needs across Delhi, Gurgaon and Noida.
Contact Details:
Address : L-20/324, Gali No.7, Near V2, Mahipalpur Extension, New Delhi-110037
Phone : +91-9015249949
Email ID : [email protected]
Website : http://www.firstchoiceconsultant.com/index.html
8. Gourav Enterprises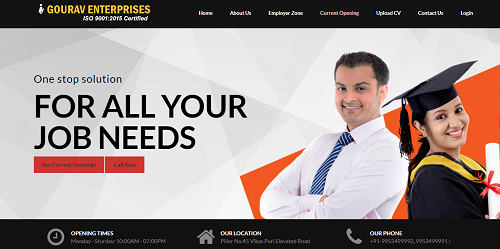 We are Gourav Enterprises Placement Services, a leading Manpower Consultancy Organization which provides several human resource solutions to its clients catering to the entire employment and business process. We do have a huge team of Expert and Professional Recruiters, who work on our client's requirement and give them a Qualitative Employee. We are having vast database, professional portals & a huge online network reference in entire India. Our resources are well equipped on the technologies mentioned and we ensure that the productivity of our resources will be from day One.

We offer flexibilities to both the Job Seekers and the Companies. Job Seekers can choose when, where n how they want to work and the Companies can get the skills what they need during their busy time. We strongly believe that there is no other alternative of Quality Services and we know that a Client could only feel happy if we can provide them the best value for their money by not only providing them with just a set of candidates, so we also provides discussion on best-fit market availability, comparative benchmarking and a comfort knowing.
Contact Details:
Address: WZ-340 street no.20 near outer ring road pillar no. 45 Tilak Nagar extension near, Vikaspuri, New Delhi, Delhi 110018
Phone: 09953499992
Email ID: [email protected]
Website: https://www.gouraventerprises.com/index.aspx
9. AMI PLACEMENT SERVICES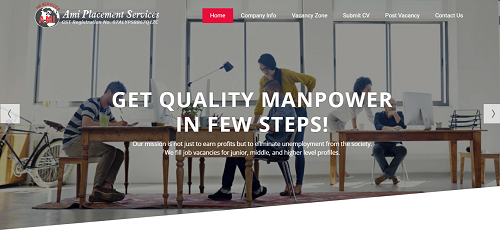 AMI PLACEMENT SERVICES (GST registration no. 07ALYPS8867Q1ZC) a premier HR consultancy firm serving for past twelve years. Established to fulfil staffing needs of the corporates, AMI Placement Services is indulged in providing manpower and headhunting services. Our company base is located in Delhi, India and we act as a strategic partner for sourcing the right skill-set for the company's manpower and staff requirements. With an experience of more than a decade, we have been catering to the needs of corporates across different industry verticals including Insurance, BPO, Finance, Engineering, Pharmaceuticals, Event Management, Sales &Marketing, FMCG Telecom/ Technology/ ISP, Manufacturing / Operations, Export/ Import IT/ ITES, Medical/ Health Care, Education / Training, Retail, Construction, etc. Founded in 2006 by Mr. Gurinder Singh, AMI Placement Services has been winning the trust of clients through its scheduled operations and excellent customer support services. Over the years, we have acted as a preferred talent acquisition partner to leading corporates across the nation. Keeping integrity and transparency at the core of our operations, we have cemented our distinguished position in the placement sector.
Contact Details:
Address: 7255/201 Ajindra Market, Prem Nagar Shakti Nagar Chowk, Near Dream Palace, Delhi, Delhi/NCR - 110007, India
Phone: +91-9136333150
Email ID: [email protected]
Website: http://www.amiplacement.in/
10. Mascot International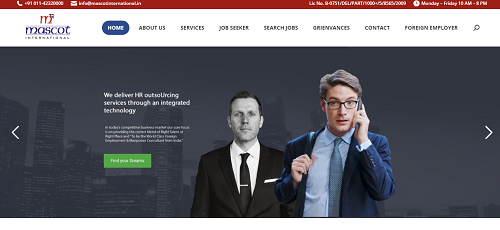 The Mascot Group was established in Delhi in 2003 and since then company has been following constant path of growth despite national and international competition. Development along with social awareness has been our objective. Our aim of designing a global multi product, multi Brand Company is now becoming a reality. Mascot International is a leading government recognized manpower consultancy in Delhi that understands the intricacies of management and operations of various industries and is dedicated to bridging the gap between the requirements in various organizations. We are also approved from Ministry of Higher Education of Saudi Arabia (Saudi Cultural Attache Affairs and Royal Embassy of Saudi Arabia).
Since inception, Mascot International has grown in multifold areas and it is reckoned as one of the reputed and leading Human Resource Consultancy Services in India, globally and holds an impeccable reputation. We recruit candidates for Heath Care, Hotel Industry, Engineering, Heavy Engineering Fabrication, Pipeline Work, Instrumentation, IT and Export / Import etc.
Contact Details:
Address: Unit No.141-142,1st Floor, Block-III,Tribhuvan Complex, Ishwar Nagar,New Delhi- 110065
Phone: 011-42320000
Email ID: [email protected]
Website: https://www.mascotinternational.in/