Here is the top 10 Placement or Recruitment consultants in Kanpur who help to provide the jobs according to you. If you are a job-seeker and looking for a job then register yourself and submit your CV in this agencies.
Here is the list of Placement & Recruitment Consultants in Kanpur who will help you to find your first job.
1. Xpress Careers Consulting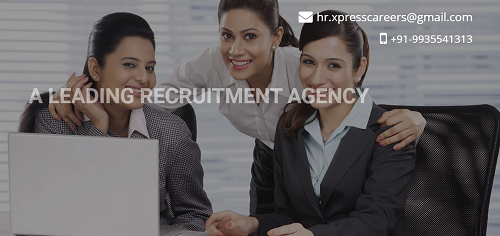 Our clients, people, partners and overall society are our significant stakeholders towards whom we are committed to be responsible, honest, respectful, accountable and transparent. Thus, we aspire to build: Through our workforce solutions we connect with the best kind of talent and clients with whom we have established continuing relations. Our role as a catalyst in the domain has helped us to create encouraging associations where we channelize and serve the best of interest.
Contact Details:
Address : Commerce Centre, Office No.312, 3rd Floor, CHUNNIGANJ, Kanpur
Phone : 9935541313
Email ID : [email protected]
Website : http://www.xpresscareersconsulting.co.in/
2. Pushpak
Pushpak is an one of Pioneer in Placement consultancy of Kanpur on the internet. We stablished in year 2000, after this we are providing servises in to HR field.It is a forum where employers, placement agencies and job seekers can contribute information, quickly, effectively and inexpensively. At Pushpak Placement, you can advertise for a job, place your C.V, place your home page, visit employer's home pages. It is an one stop information clearing house about jobs and careers for Indians.
Contact Details:
Address :117/C-28/81-A, Sarvodya Nagar, Kanpur -208005 (U.P.)
Phone : 09839007754
Email ID : [email protected]
Website : http://www.pushpakjob.com/index.html
3. The Recruitz
The Recruitz has brought employers and job seekers together with results that speak for themselves! Our experience, insights and attention to detail enable us to identify top talent across a broad range of professional levels, industries and companies throughout the Nation. In this time we've helped bring together thousands of employers and job seekers for positions that span a broad range of industries and fields, levels of education, and professional experience.
We pride ourselves on making mutually beneficial matches between job seekers and our corporate clients, and go to great lengths to ensure that each satisfies the needs and expectations of the other. We do so by taking the time to thoroughly understand the specific needs of each of our clients, and then using proprietary recruitment techniques to pinpoint the most suitable job candidates.
The Recruitment agency in Kanpur is committed to delivering a thoroughly satisfactory experience with every recruitment project. We hold ourselves to extremely high standards of professionalism, integrity and accuracy, and we invite you to put us to the test!
Contact Details
Address : Office 27, 3rd Floor, Clyde House, Opp. Heer Palace, The Mall, Kanpur
Contact Number : 9369336360
Email ID : [email protected]
Website : http://recruitz.in/
IIFA PLACEMENT have made a substantial impact on the recruitment marketplace. We offer recruitment services in Kanpur on a national basis to both large and mid-sized companies in the manufacturing, wholesale, distribution, service, construction and industrial related industries.
We understands what it takes for a company to hire the right professional for the right position and we have developed a comprehensive and continuously growing database of highly qualified candidates in a variety of industries.
Contact Details:
Address : OFFICE#204, 2ND FLOOR, GOPALA CHAMBERS, OPP. PPN MARKET PARADE, Permat, Kanpur
Phone : 9044956611
Email ID : [email protected]
Website : http://www.iifaplacement.com/
5. Vision Placement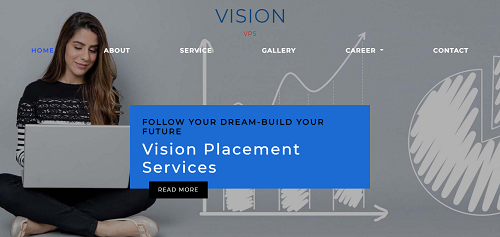 Vision Placement Services is a fastest growing placement firm in Kanpur, UP. It's rated as one of the most credible & reliable Consultancy. At our selection process we ensure that each candidate is suitable to our employers' prospective needs. This is how Vision Placement Services works. We make sure that our company can give you the maximum benefits of recruiting our services as manpower recruitment experts. There are many Placement Consultancies in Kanpur, UP but we dare to stand out due to our accurateness, effectiveness and timeliness in deliverance.
Vision Placement Services is an HR process consulting company having its expertise in wide areas of HR Services. We have a team of professionals and each of us have more than 20 years of rich experience in the field of HR process consultation. When it comes for providing HR process consulting services, we stand as one of the top HR companies in Kanpur, UP.
Contact Details:
Address : Kidwai Nagar,Kanpur Uttar Pradesh.
Phone : +(91)9335117081
Email ID : [email protected]
Website : http://visionplacementservices.in/index.php
6. Hayat Placement Services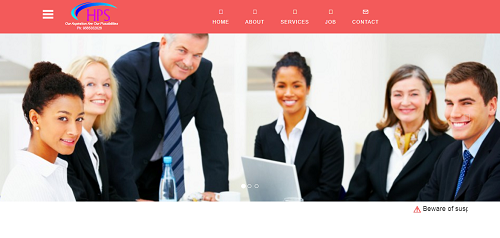 We at Hayat Placement Services are offering a wide array of specialized services such as Manpower Services, Campus Recruitment Services, Permanent Recruitment Services, Training & Development Services and Placement Services Hayat Placement services was established in March 2014 and aims in providing its customers with skillful and productive workers and employees with work that matches their skills and abilities .Hayat Placement Services work with client companies, building
Hayat Placement Services in Kanpur is supported by a dynamic rung of consultants. We introduce ourselves as an organization committed to establish and maintain new standards in Human Resource Consulting. In keeping with the current industry requirements, Hayat Placement Services has developed a mix of professionals with domain and functional experience, who act as a like-minded sounding board to the customer - who could be an organization or a candidate.
The professional approach provides a platform for the customer to identify the necessary competitive edge. we have successfully catered & provided requisite manpower requirement of various Companies.
Contact Details:
Address : Kalpana Plaza,5th Floor,Office No 511 Near Kashi Jewellers, 24/147, Birhana Rd, Naughara, General Ganj, Kanpur, Uttar Pradesh 208001
Phone : +(91)-9565352026
Email ID : [email protected]
Website : https://www.hayatplacement.in/
7. Amax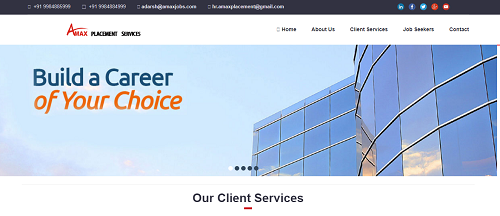 Our main emphasis is on giving the right fit to our clients at the right time. We act as a member of our client's team and assist them in their requirements as per their priorities. We understand the requirements well & know what will suit the best. We have a good network in industry to get the right candidate at all levels. We have developed innovative Recruitment consultants in Kanpur to make the process of recruitment accurate & fast. We have highly competent and dedicated professionals which gives our clients an edge in the current scenario. We use active and passive sourcing methodologies efficiently to deliver the unique candidates for our client requirements.
Contact Details:
Address : Kalpana Plaza,5th Floor,Office No 511 Near Kashi Jewellers, 24/147, Birhana Rd, Naughara, General Ganj, Kanpur
Phone : 9984885999
Email ID : [email protected]
Website : https://www.amaxjobs.com/
8. Shine Placement Services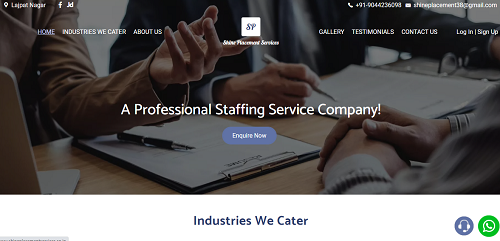 We, Shine Placement Services located at Lajpat Nagar, Kanpur, Uttar Pradesh is a leading placement agency in Kanpur that delivers the best opportunities to each individuals. We churn out the real talent and place them to the positions and companies they are best suitable for. We are a vigilant placement consultancy, aiming to fulfil every individual's employment needs. We guide you in your journey to achieve your desired job.
Contact Details:
Address : 120/70,Lajpat Nagar,Opposite Guru Nanak Girls College,Lajpat Nagar Main Road, Lajpat Nagar, Kanpur, Uttar Pradesh 208005
Phone : +91-9044236098
Email ID : [email protected]
Website : http://www.shineplacementservices.co.in/
9. Golden Orchid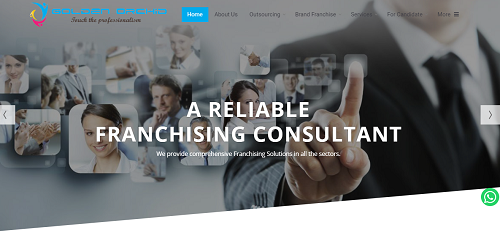 Golden Orchid focuses on diverse segments of business consulting and career making, started as a one-stop destination catering to varied requirements in the field of Startups, Brand collaboration, Career building and Make in INDIA Projects. Golden Orchid diversified its services up to outsourcing & consulting startups for setup their business across India along with providing a genuine and big platform to make franchise options available to investors. The company is a brain child of Mr. Sandeep. He is a dynamic entrepreneur with years of experience and ample knowledge of the working of the industry. Under his guidance, Golden Orchid has emerged as trusted name in India.
Founded in 2015 and led by a team of highly qualified professionals, with a passion for excellence in business startup sector and career making sector. Golden Orchid has focused on shaping the lives and careers of youth in five years of its existence with a team of qualified and experienced professionals to render our diverse services with utmost efficiency, transparency and professionalism. We have our presence across India from Lucknow to Delhi-NCR and Chandigarh to Ahmadabad, catering nearby areas of these cities.
Contact Details:
Address :3/117, First floor, Vikas Nagar, Near Patanjali Chikitsalay, Above GO69 Pizza, Lucknow, Uttar Pradesh - 226002, India
Phone : +91-7310063650
Email ID : [email protected]
Website : http://www.goldenorchidindia.com/
10. Vishwas consultants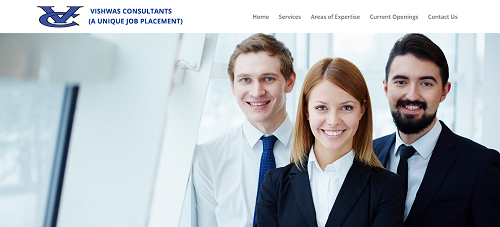 At Vishwas consultants, we visualize, plan and create solutions before we deploy them for you. Vishwas placement consultants in Kanpur provides personalized services to its clients and maintains confidentiality on need basis. Vishwas consultants is adept in formulating and aligning organization's people, strategy and operations with a focus on value maximization.
To Provide the customer centricity through our people, processes & strategies. To be a globally recognized consulting firm, providing innovative HR solutions to organizations and be a partner in their success.
Contact Details:
Address : 17/5, ROLLAND TOWER, OFFICE NO.26(BASEMENT), NEAR KHEREPATI, MANDIR, PHOOL BAGH, THE MALL-KANPUR-208001
Phone : 838448869
Email ID : [email protected]
Website : http://www.vishwasconsultants.com/