1. My Architecture Interior Lead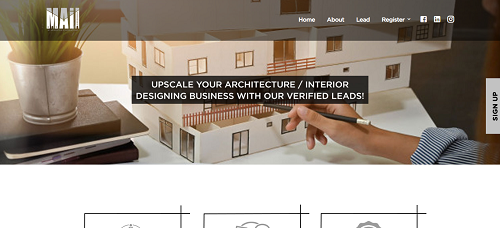 If you are looking to increase your business, then this might interest you! We are an online platform working on bridging nationwide Architects and Interior Designer In Delhi with their desired audience. Our mission is to build a community of professionals who can pitch for verified leads at their preferred location.
To avoid spam and to grow your business exponentially, our team brings you leads only from the trusted sources.
Contact Details
Address : 2nd Floor, Express Towers, Nariman Point, Mumbai, Maharashtra 400021
Email Id : [email protected]
Website : https://myarchitectureinteriorleads.in
2. Mumbai Carpenter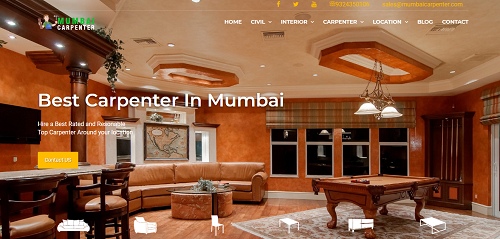 Mumbai Carpenter do many jobs in construction, building or repairing structures,Interior Designer, Interior Decorator, Plumbing, Electical Works, Civil Works. which can mean anything from framing a house to building stairs and door frames to putting in cabinetry or drywall. Mumbai Carpenter might build things out of raw materials, or install pre-built items. We Mostly work with Wood , but often work with drywall, fiberglass, or other materials. Jobs might be manufacturing table ,chair, conference table ,office Furniture, House Furniture from the scratch or simply replacing a doorframe. Mumbai Carpenter work in all facets of construction, from large industrial jobs to small handyman jobs. We office Furniture in affordable price and yes with best quality.
Contact Details
Address : Flat no 77 ,Building, No 94, DN Wakrikar Marg, near Worli Doordarshan Tower, Worli, Mumbai, Maharashtra 400018
Contact : 093243 50106
Website : https://mumbaicarpenter.com
3. Furniturewalla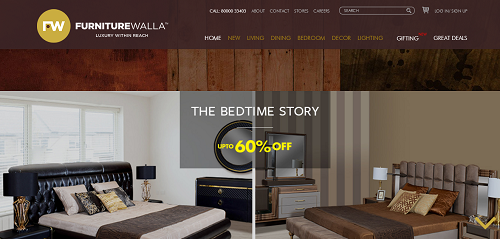 Founded in1999 by FARHAN FURNITUREWALLA, FURNITUREWALLA FW today is a leading premium brand of LUXURY FURNITURE, LIGHTING, ART & HOME DECOR retailing from 4 signature stores in MUMBAI, DELHI, BANGALORE & HYDERABAD.  Sofa Set  Furniturewalla FW offers a world of contemporary luxury in the LATEST WORLD HOME TRENDS. Here, cutting edge, eclectic, high quality collectibles are available at VALUE PRICES, creating a world of ULTIMATE VALUE LUXURY very attainable to the design conscious.
Indulge & choose from over 2000 CURATED & HANDPICKED PRODUCTS by LAILA & FARHAN FURNITUREWALLA from AROUND THE WORLD & enjoy the modern elegance ,contemporary vintage & aesthetic luxe of the collections. FW's mantra of ''LUXURY WITHIN REACH '' makes Haute Living available to its clientele, furnishing lakhs of homes across India, enjoying extraordinary customer loyalty & trust. Furniturewalla FW COLLABORATES WITH ARCHITECTS, INTERIOR DESIGNERS & BUILDERS FOR PROJECTS based on the company's product sourcing strength from around the globe established in 1999 with a warehousing facility of 70000 sq ft.
Contact Details
Address : 55, DR. E MOSES ROAD, NEAR FOUR SEASONS HOTEL, WORLI, MUMBAI - 400 018
Contact : 80000 33403
Email Id : [email protected]
Website : https://www.furniturewalla.com/
4. GeoDesigns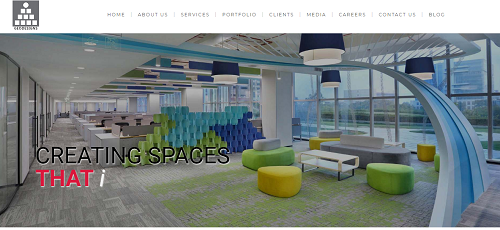 Established in the year 2000, GeoDesigns is one of India's leading Interior Design and Architectural firms. With Geo Design's headquarters in Delhi NCR we have relevant project experience in Bangalore, Hyderabad, Pune, Chennai, Kolkata, Meerut, Karnal, Mohali along with international projects in Colombo and Nigeria. Having designed over 2 million sq. feet of space and working with a diversified set of clients, we have developed a unique client-centric approach, that creates and delivers technologically advanced, user friendly and sustainable workspaces which are ready for the future.
Working collectively with the company's mission "to build the ethos and culture of our client's brand into its workplace design" we have received multiple awards and appreciations for our works. We believe our strength lies in our diversified team, that provide their vast experience in the fields of corporate interiors, interior design, architecture design, design-build and project management consultancy to create concepts into reality.
Contact Details
Address : E-36, East of Kailash, New Delhi-110065, India.
Contact : +91 - 11 - 41626101
Email Id : [email protected]
Website : https://www.geodesigns.in/
5. Shabad Interiors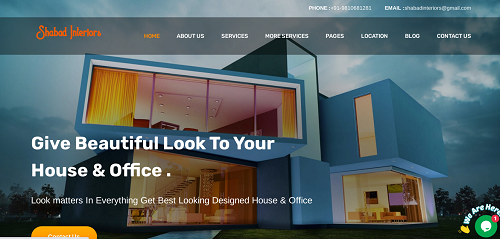 SHABAD INTERIORS, established in 2001 is a multidiscipline Interior Designing firm founded on a commitment to client service and quality design. We have wide range of unique Ideas that suit every taste & every budget. We empathies our clients with our expertise, efforts & well equipped team of Electricians, Plumbers, Carpenters, Masons, Painters, Upholsters, Site Supervisors etc. Subsequently Client's time is saved that leads to lots of business Savings to our clients with mutual benefits. We have also made our mark in good books of Celebrities like MIKA SINGH, DALER MEHENDI by developing their worldwide exposures into their Farm houses. Our Products also reflect the same alike Qualities that suit the Celebrities.
Contact Details
Address : B-126, Mayapuri Industrial Area Phase 1, Delhi - 110064
Contact : +91-9810681281
Email Id : [email protected]
Website : https://www.shabadinteriors.com/
6. Shally Interior Designer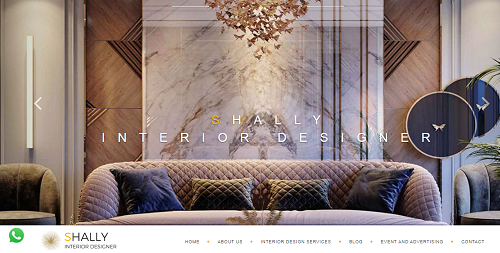 Shally Interior Designer Company is one of the best Interior Designer in Delhi specialized in providing elegant and stunning interior designing service for both residential and commercial projects. We are well experienced with various international styles. We also aim to build lasting relations with our clients through strong communications and hard work. We are always happy to customize enchanting and marvelous designs for your units.
Contact Details
Address : KG- 1/523, Vikas Puri, New Delhi- 110018
Contact : (+91) 999 960 6298
Email Id : [email protected]
Website : http://www.shallyinteriordesigner.com/
7. Shruti Sodhi
After graduation, she discovered a transit in her talents that were more suited to marketing. She soon launched her own jewelry brand, which met with a lot of hurdles, including reproductions of her own design without her consent. During these difficult times, she found herself drawn to many interior design magazines for comfort. That is when she decided to take her love for interior design and push it forward. She dedicated all her time and effort to the organization. What started as a basic interior design and decoration consultation agency soon grew into a big and popular interior design  company in Delhi NCR getting her elite clientele like the famous Marriott chain of hotels.  A few of her projects got featured in 'Essential Home' affirming her affinity to this field. She also then started designing her own range of Italian Furniture to add another layer of sophistication for her clients. Thus making her one of the most sought after interior designer In Delhi
Contact Details
Address : C-11, Lower Ground Floor Greater Kailash, Part I, South Delhi New Delhi - 110048, India
Contact : +91 89 205 34624
Email Id : [email protected]
Website : https://www.shrutisodhi.in/
8. Latest Interiors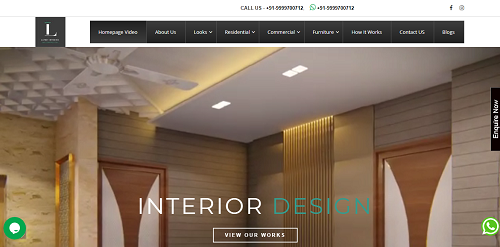 Latest Interiors is the industry-leading construction & Interiors company serving the interiors design, architectural and furniture manufacturing from 2008. For over 11 years, Latest Interiors  which builds smart businesses driven by innovation and design—has been the essential design authority for every professional, on all projects, throughout the design process. Latest Interiors is one of the best interior designers in Delhi.
Interior Design Events connects the industry, promoting creative leadership, innovation and collaboration across a wide range of practice areas and platforms. Latest Interiors digital companion, is the go-to site for relevant and real-time content for the industry's largest and most engaged design audience.
Contact Details
Address : 11 Ground Floor Rajouri Garden Behind Relaxo Showroom New Delhi 110027
Contact : +91-9999745712
Email Id : [email protected]
Website : https://www.latestinteriors.com/
9. Marks DZYN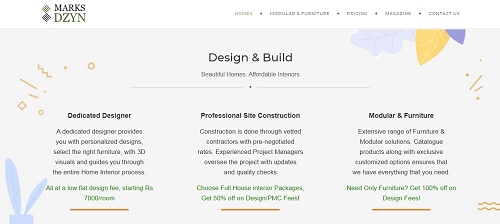 Getting a interior work done is quite a journey. Anyone who has got a house interior done will swear that the experience can get quite messy – more than often. You have to  deal with too many people, designers, contractors, modular guys, and the list just goes on. And then, there is no transparency of pricing! No respect for a time schedule! Unexplained Expenses! And at the end of it what you visualize, might not be what you get!
Marks DZYN is an internet driven Design & Construction Company offering creative interior designs at flatteringly low fees. This along with professional construction services, professional site managers, long warranties and transparent pricing, enables you to get an hassle free and a complete interior experience.
Contact Details
Address : B – 9 Oriental House,19-20 Community Centre,Gulmohar Park Commercial Centre, New Delhi 110 049
Contact : +91 8700 883 497
Email Id : [email protected]
Website : https://www.marksdzyn.com/
10. 7WD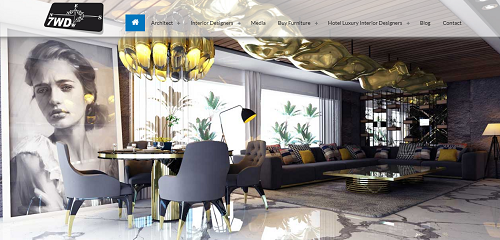 Welcome to 7WD Group - A Complete Space Design Studio - Architecture - Interior Designing - Designer Furniture Factory - Landscape Designer - Space Harmony by Vastu, Fengshui, Chromotherapy. 7WD specialized in Morden, Classic Design with a global influence. 7WD Known For Luxury & High End House & Interior Designer In Delhi, Whether designing residential or commercial spaces, 7WD has built a reputation on achieving highly individual results for a discerning, Indian & Outside clientele. 7WD crafts visual designer stories that become signature surroundings. Guided by clients' aspirations, as well as their diverse experiences, the firm designs great Exteriors & Interiors, which allow clients to fully express who they are, and what holds meaning to them.
Contact Details
Address : PLOT NO-8, SHRI NAGAR COLONYASHOK VIHAR MAIN ROAD100 52(INDIA)
Contact : 011 - 23643562
Email Id : [email protected]
Website : http://www.7wdinteriordesign.com/