The Gumasta License is necessary under the Maharashtra Shops and Establishments Act of 2017. The License is issued by the relevant municipal body or rural local body. It is required for anyone wishing to set up a business in Maharashtra, either as an individual or as an organization. The gumasta License online is valid between one and five years and must be renewed a full month before the expiry date. Any employer with more than nine absolute employees must apply for a Gumasta license.
Key Points of The Gumasta License:
The gumasta License is issued under Section 6(1) of the Maharashtra Establishments and Shops Act, 2017.
The License is compulsory for all businesses in Maharashtra and, once obtained, entitles you to various tax subsidies from the Government of Maharashtra.
Most relevant Nowadays, one cannot get his GST registration in Maharashtra without a Gumasta license.
No registration fee is charged for the License.
The online gumasta proves that an establishment is a recognized legal entity.
The gumasta License serves as proof of identity for banks.
This gumasta License must be used within 60 days of starting a business.
This gumasta License is valid for a period of 1 to 5 years (if applicable), after which Licensee must renew it and may do so for up to 10 years (if applicable)
Gumasta license renewal must be applied 30 days before the license expiration date.
Which Categories Come Under The Gumasta License?
All organizations that may appear under any of the definitions or categories below are subject to this requirement. Any organization with ten or more employees must acquire this License within 60 days. The operational categories are,
Premises from which services are provided to customers
Retail Shops
Wholesale Shops
Residential Hotels
Restaurants and cafes
Any Public Amusement Park, Theater, or Entertainment Zone
Storerooms, Warehouses, and Godowns
Documents Required For Online Gumasta License Registration:
General/Sole Proprietorship:
Aadhaar card
Address proof
Photograph
Business authorization letter
Proof of ownership over property
Partnership Firm:
Partnership firm's plan
Partnership deed
Partner(s) 's proof of identity
Address proof
Fees for a partnership firm
Private company:
Address proof
Proof of identity for the partners
MOA or Memorandum of Association
Articles of Association
Charitable Trust – Name of the Trustees & Certificates.
Bank –Copy of permission issued by RBI.
Cooperative Society – Registration Copy.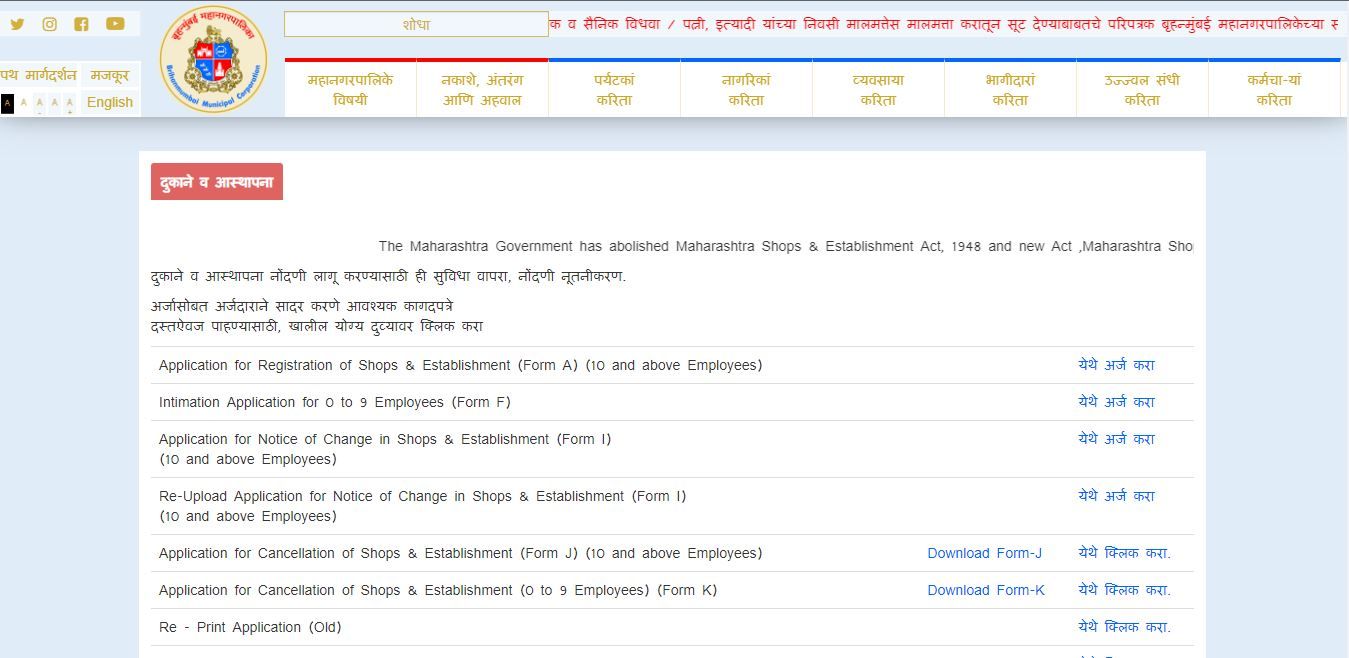 How To Apply For Online Gumasta License:
To start the process, you need to log in to the Greater Mumbai Municipal Corporation's official website, or you can also click on the official Sarkari Suvidha Website, which will redirect you to the page where you can register.
Once you land on it, you must go to the Shop and Establishment section. Here you can start the registration process.
After you have filled out the registration form, you must submit it. After that, you will receive a receipt.
Once you get the receipt, you must pay the Gumasta license fees to get the UTN number.
After you have paid the fee, you must print out the form and have all documents ready and submit them.
The registration officer checks all documents and issues the License after successful verification.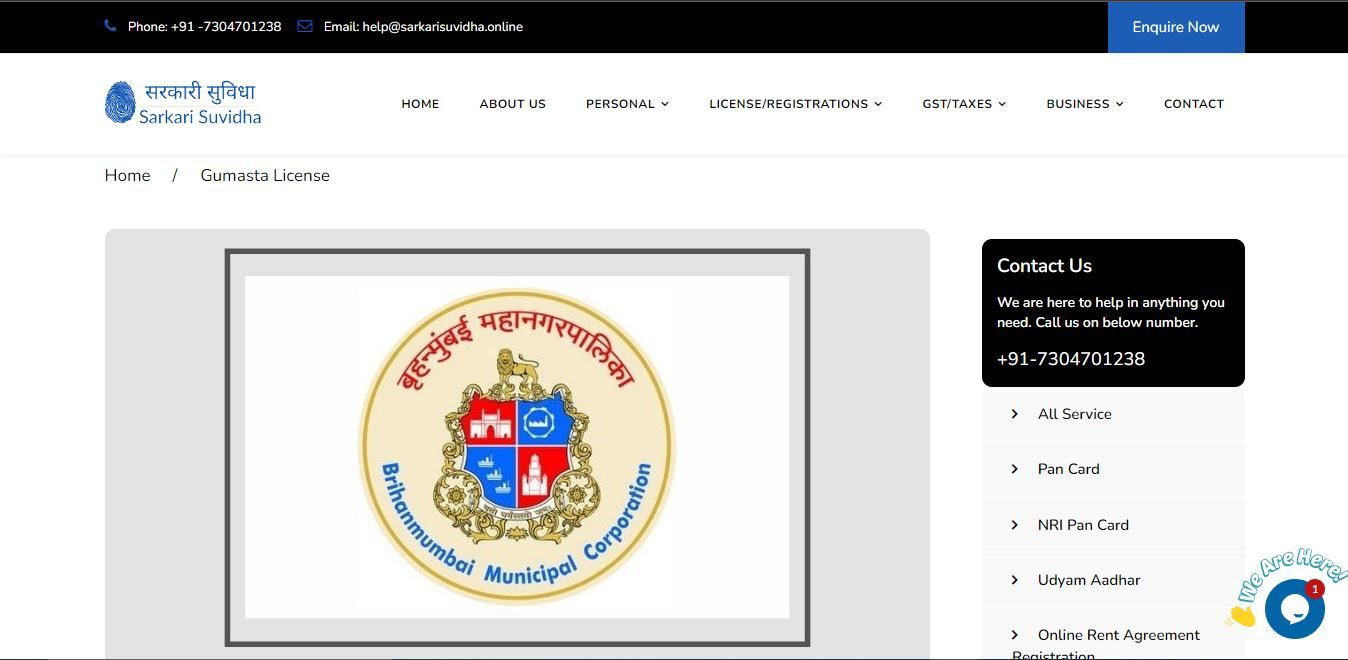 Procedure for Online Gumasta License Renewal:
You can easily opt for online renewal by following the steps below:
It is worth noting that if the gumasta license renewal is not renewed on time, a late fee of 50% of the total will be charged at the time of applying for the renewal fee. This extension can be done at least 30 days before the registration expires or 30 days after the registration certificate expires.
Visit the official website of Renewal Application for Shop & Establishment / Sarkari Suvidha to register gumasta license renewal.
After that, you must provide all the details mentioned in the application.
Also, upload supporting documents.
Pay the renewal fees.
Check the status of your application to see if you have been approved or denied.
After approval, you will have the opportunity to download the Gumasta License Registration Certificate.