Homeopathy is an advanced, effective, and Safest system of  medicine which is been successfully used for over two hundred years and Homeopathy is used today also. It is safe for us. Homeopathy is not to be confused with herbal medicine or nutritional therapy. Everyone want the best doctor for their health. Here is best Homeopathy hospital in Mumbai.
1. Dr Joshis Homeopathic
The clinic is situated in the plush and quiet suburb of Vile Parle East in Mumbai. The couple has been associated with Homeopathy since the past 20 years and believes it is the right answer to several problems of today's Modern World. The clinic specialises in treating people of all ages, adults and children. The specialises in treating pathologies that are related to allergies ( opthalmic, skin, digestive system), auto immune complaints like scleroderma, arthritis, SLE, multiple sclerosis and complaints related to women like PCOS. The clinc as well gives supportive treatment for cancer cases.
Contact Details
Address : B 101, First floor, Rushi Sanket, Mahant road, junction of mahant road & prathana samaj road, Vile Parle (East) Mumbai- 400057, India
Contact : +91 9619532162
Email Id : [email protected]
Website : http://www.drjoshisclinic.com/
2. MindHeal Homeopathy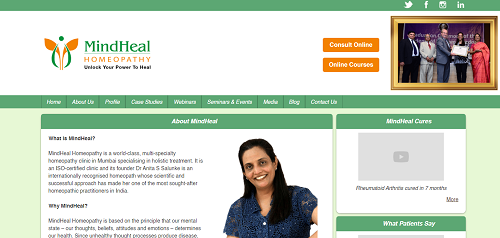 Healing is as much an art as it is a science, and Dr Anita S Salunke uses a powerful combination of both in her hugely successful practice. Her accurate diagnoses and quick results have made her one of India's most sought-after homeopaths.
‍
Dr Salunke is known especially for her success with cases of extreme pathology and psychiatric conditions. Conventional medicine is not equipped to treat cases like these but Dr Salunke has achieved outstanding results in these areas.
Contact Details
Address : Gurudev Apartments, Ground Floor, B-Wing, behind Hanuman Mandir, Chembur East, Mumbai, Maharashtra 400071
Contact : +91 9930363981
Email Id : [email protected]
Website : https://www.mindheal.org/
3. Bhaktivedanta Hospital
Bhaktivedanta Hospital & Research Institute is designed and structured to provide holistic health care for the body, mind and soul with a unique broadminded approach to Allopathic, Ayurvedic, Homoeopathic and other alternative medical therapies. It is the endeavor of the Hospital to provide care to world standard and that too at a reasonable cost, and in deserving cases, totally free.
With the aim of achieving these objectives, the Hospital is committed to establishing necessary facilities of international standards, conducting research programs in various fields of health/patient care and ensuring that the research findings are translated into improvements in patient care. The Hospital also aims at developing professional management, creating an environment conducive to team spirit, and is always ready to resolve acute and chronic health problems of patients and to promote preventive medical care in the society at large.
Contact Details
Address : Srishti Complex, Bhaktivedanta Swami Marg, Mira Road (E), Thane - 401 107, Maharashtra, India.
Contact : 91-22-61882500
Email Id : [email protected]
Website : http://www.bhaktivedantahospital.com/
4. Dr. Jaswant Patil
Dr. Jaswant Patil has received various awards and accolades as an acknowledgment of merit for his contribution in the field of medical science.He has been honored nationally and internationally for various scholarly orations in various institutional and industry forums. He has advised various dignitaries across India on their health problems and have successfully helped them lead a healthy life.
Dr. Patil actively promotes a healthy lifestyle for people and his counsel are widely sought after by his patients in Mumbai, Pune, Jalgaon, Nashik and various other parts of India and across the Globe. He also publishes resourceful articles on his blog and shares knowledge through media on various occasions.
Contact Details
Address : Deep Ganga Alternative Therapy Hub, First Floor, Onkar Building, Above Axis Bank, Opposite Oberoi Mall, Goregaon (E), Mumbai - 400063
Contact : +91 22-28432828
Website : https://drjaswantpatil.com/
5. Dr. Mahesh Gandhi Clinic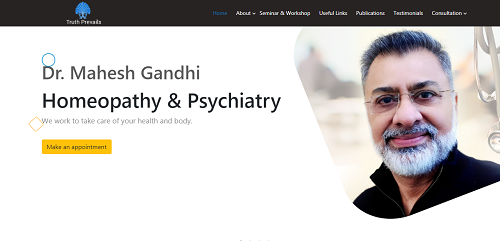 Dr. Mahesh Gandhi completed his M.D. (Psychiatry) in Modern Medicine in 1981 from KEM hospital, Mumbai. With a passion for teaching, he taught in Medical Colleges for almost 10 years. His lectures were so sought after, that he wrote a book in Psychiatry, which was very popular amongst the undergraduate medical students for several years.
Dr. Gandhi was an Honorar Professor and Head of Department of Psychiatry in the prestigious Somaiya Medical College in Mumbai, from which he later resigned to pursue his interest in Homoeopathy.
Contact Details
Address : 10, New Sujata CHS, Opp Granth BookStore, Juhu Tara Road, Juhu, Santacruz West, Mumbai 400049.
Contact : 022-26602077
Email Id : [email protected]
Website : http://www.drmaheshgandhiclinic.com/
6. Dr Ravi Doctor
Practicing Homeopathy in Integrated Cancer Care since the year 2001.
He is an Associate. Professor and Head of Department at the Virar Homeopathic Medical College, Mumbai.
He is one of the first Homeopathic physicians to serve as Honorary Homeopathic consultant with the Indian Army Colaba, Mumbai.
He is examiner on board with the Maharashtra university of Health sciences
He is a faculty member with the International Integrated Oncology Training, an Indo Swiss Collaborative training program in Integrative Oncology and Mistletoe therapy in cancer.He is founder and head of Cancer Holistic Care Clinics.He is a Homeopathic consultant with Saifee Hospital,Charni Road, Mumbai
Contact Details
Address : Mohini Mansion, Ground Floor, Strand Road, Apollo Bandar, Landmark: Opposite Mistry Chambers, Mumbai
Contact : +91-9820-167-646
Website : http://www.drravidoctor.com/
7. Expert Cancer Homoeo Clinic
Expert Cancer Homoeo Clinic was established in 1979 by Dr. Devendra Singh with the aim of curing chronic and dreaded diseases like cancer, kidney failure, Aplastic anemia, hepatitis B,hepatitis C, etc. by homeopathy. Dr. Devendra Singh, a homeopathic physician, lives and works in Lucknow, India, where he has been running a busy and successful Homeopathic practice for over 38 years. Dr. Devendra Singh has cured many patients completely, with his Classical Homeopathic approach, in the last 38 years of his practice. He specializes in the treatment of cancer and kidney failure. Staging a 'One Man Show' in the beginning, Dr. Devendra Singh has built up a team of sincere physicians. Dr Dipika Singh, Dr. Dipendra Singh and Dr. Dipanjali Singh, joined their hands with him to move towards a common goal, putting their sincere efforts to take Expert Cancer Homoeo Clinic at greater heights and deliver care, comfort and cure to their patients.
Contact Details
Address : 504 Sunshine, Opp Shastri Nagar, Lokhandwala,Andheri West,Mumbai- 400053
Contact : +91-8176813454
Email Id : [email protected]
Website : https://cancerhomoeoclinic.co.in/
8. Criticare Multi specialty Hospital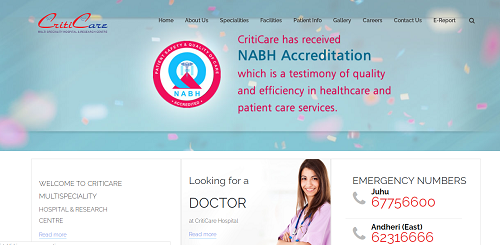 Criticare Multi specialty Hospital is a name synonymous with quality Health care by professional doctors for over two decades now and is located in the western suburb of Mumbai – Andheri. The hospital was a dream child of Dr. Deepak Namjoshi, Cardiologist & Chest Physician. The foundation of this hospital is laid on the values of providing world-class qualitative medical amenities to people with a humane touch. At Criti Care, it is the ambition and core value of each member to strive for creating a healthy society and a future generation which is aware about healthy living.
Contact Details
Address : Plot No. 38/39, Main Gulmohar Rd., JVPD Scheme, Juhu, Andheri (W), Mumbai 400 049.
Contact : 022 – 6775 6600
Email Id : [email protected]
Website : http://criticarehospital.in/
9. Kosha Homeopathy Clinic
Healing the Healthy way is her Mission. Qualified as Homeopath in 2001, Dr. Kruti started practicing this science to heal not only chronic complaints but also the recurring and resistant ones. This also brought her an experience to treat more severe and acute complaints like Asthma attacks, Malaria, Dengue, High fever etc where all the skill and patience got her tremendous success.
Keen on research and a strong believer of the efficacy of homeopathy, she has carried out clinical research on the utility of Repertory (a homeopathic tool) BBCR in treatment of Infections, Fever and more resistant Chronic ailments during her Post graduation.
Contact Details
Address : Shop 14, Gagan Shopping Arcade,Krishna Vatika Marg,Gokuldham Colony,Goregaon ( E )Mumbai- 400063
Contact : 9727072632
Email Id : [email protected]
Website : http://www.koshaclinic.com/
10. KLS Hospital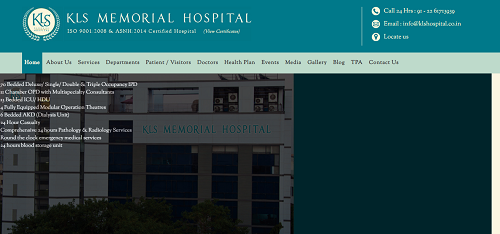 KLS Memorial Hospital is the brainchild of Dr Amul K Sadiwala, who has gleaned over 30 years' experience running Dr. Sadiwala's Clinic and Nursing Home, to create a superior medical service with the latest updated technology & patient care facility. One of the aims of this modernized health care facility is to bring in state-of-art equipment and the latest medical gadgetry for excelling in the art of surgery thus enhancing patient care. But the larger goal is to create a model of personalized and warm medical care to all patients, with 'empathy' being the key word, to be nurtured and inculcated in the staff and the doctors.
Contact Details
Address : KLS Memorial Hospital, Irla, Vile Parle (West), Mumbai – 400 056
Contact : +91 022 6171 3939
Email Id : [email protected]
Website : http://klshospital.co.in/