1.  All is Well Homeopathy Clinic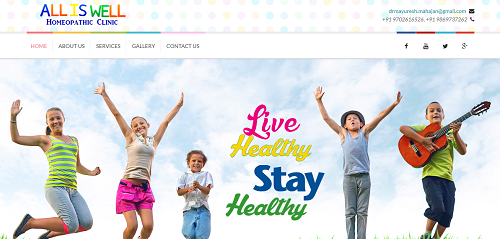 The dashing and elegant Dr. Mayuresh Mahajan is a leading Homoeopath in the Thane & kalwa area. He is also a key stone in the bridge called HHF which bridges the ignoramus with the knowledgeable in this form of Homoeopathy. Apart from being an excellent clinician he is also a very popular lecturer at local and national seminars. His excellent clinical skills added to his deep theoretical knowledge blended with intermittent and spontaneous humor make for a heady cocktail in his lectures and keep the audiences asking for more. He brings all his expertise in treating patients who are used here in accentuating some rubrics and differentiating others. All in all it adds up gripping book which when once started cannot be kept down till the last page is over.
Contact Details
Address : 104, New Kailash Park Building, Near Rajmata Wada Pav Next to Satyam Collection, Ram Maruti Cross Road, Naupada, Thane West, Thane, Maharashtra 400602
Contact : +91 9702616526
Email Id : [email protected]
Website :  http://www.alliswellhomeopathy.in/
2. Godas Homeopathy Clinic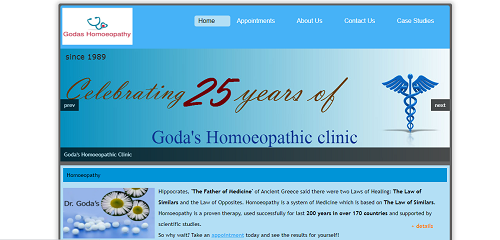 Homoeopathy is a system of Medicine (drug therapeutics) which is based on The Law of Similars. This law states that a Medicine, capable of producing in a healthy person a diseased state exactly similar to that observed in a diseased person, can cure the disease, provided the disease is in a curable stage. In the incurable stage of the disease, however, it acts as a best palliative.
Finding an exactly similar medicine is the "Key" to success in Homoeopathy. Let us explain this point through an example. We all experience the common "Flu" that affects many people at one time in a family. We observe that many of them have common symptoms like cold, cough, body ache, headache, weakness, etc. At the same time, if we observe a little more carefully, we see some differences, like the intensity of body ache is more in one while another experiences the headache more. If one would like to put off the fan, another would want to have it on full. Appetite & Thirst for water too can vary. Thirst can be for cold water or warm, etc.etc.. For a homoeopath it is important to identify these differences adequately, so that he is able to select the "similar" medicine from a group of 8 to 10 medicines that can treat "Flu".
The same rules apply in treating Chronic illnesses. For e.g. the common problem nowadays, of Diabetes Mellitus. This illness is known to run in families. Yet we see that all the children do not develop the illness; or all do not develop at the same age; also we see that, some will have symptoms, while some will not have any symptoms & they get diagnosed during a routine medical check up. We also see that some will improve with only diet & regular exercise, while some need additionally medicines as well.
Contact Details
Address : 9/A/24, Brindavan Society, Thane(w), 400601.
Contact : (+91) 9833437343
Email Id : [email protected]
Website : http://www.godashomoeopathicclinic.com/
3. Modern Homeopathy
Modern Homeopathy.....the curative line of homeopathic treatment, with leading cases of Cancer, Liver Cirrhosis, Kidney failure, Heart diseases, Arthritis, Nephrotic Syndrome, Blood & Brain Disorders, Diabetics and other incurable diseases. Modern Homeopathy with full pledged clinical cases getting covered by them. Modern Homeopathy has no side effects.
Homeopathic medicines reduces the size of the tumour as well as the pains of the patients. Even the patients whose cancer has spread into the brain (last stage) have shown improvement. This enables the patients on the death-bed to live without pain giving relief to the patients and their relatives. The patients need not be admitted to the hospital for homeopathic treatment. Modern Homeopathy's CEO Dr. Vijaykumar Mane (MD, Homeopath) has cured many patients with different types of cancer. Their symptoms have not occurred even after 5 years after completion of the treatment.
In Allopathy when patient is diagnosed as Chronic Renal Failure or Chronic Kidney Disease there are only two alternative line of treatment, first one is to undergo Hemodialysis throughout patient's life & second one is Renal Transplantation. Hemodialysis is having only limited & symptomatic scope in patients of Chronic Renal Failure.
Contact Details
Address : 12/B/8, Sahyadri Hou.Society, Near ICICI bank, Mumbai-Pune road, Kalawa (West), Thane - 400605, Maharashtra.
Contact : +91 7083779009
Website : https://www.modernhomeopathy.com/
4. Horizon Prime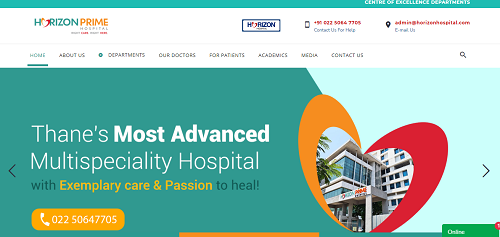 Horizon Prime is a 120 bedded premier multispecialty healthcare facility with all services under one roof. Located at the heart of Ghodbunder Road in Patlipada, it is accessible from both, western as well as eastern express highway. Horizon Prime is a comprehensive Tertiary care hospital designed on International standards and NABH guidelines.
Contact Details
Address : Horizon Prime Hospital, Vibgyor, B-Wing, Patlipada, Ghodbunder Road, Near Hiranandani Estate, Behind Ritu Nissan Showroom Thane (W) Maharashtra – 400607
Contact : +91 86575 08101
Email Id : [email protected]
Website : https://prime.horizonhospital.com/
5. Santulan Family Wellness Clinic
We at Santulan - a family wellness clinic, are offering holistic care for all the ailments under one roof keeping in mind the ethos of the doctor patient relationship which is built on trust and ethics .

At Santulan, we strive to get closer to the concept of family medicine by reaching out and addressing to each and every healthcare need of family irrespective of their age.
Contact Details
Address : A4, Athene, Lodha Paradise, Opp Lodha World School, Majiwada, Thane West
Contact : +91 7678001479
Email Id : [email protected]
Website : https://www.santulanhealthcare.com/
6. Jupiter Hospital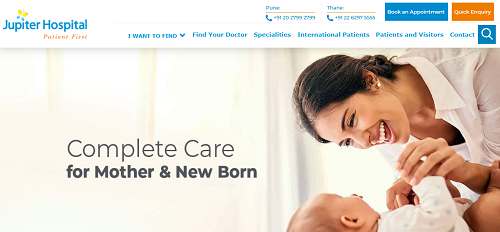 Jupiter Hospital is a multi-specialty, tertiary care Hospital that lays its foundation on a 'Patient first' ideology. The hospital caters to all branches of medicine right from birthing and new born care up to cancer and multi-organ transplants.
Situated in the vicinity of the arterial Eastern Express Highway, Jupiter multi-speciality Hospital is the epitome of medical innovations and quality healthcare that offers easy connectivity and accessibility to patients from all the nodes across Thane and Pune.
A 400,000 sq. ft. hospital stretched over an area of 3 acres, Jupiter multi-speciality hospital is on par with any top-notch hospital in the world and is the region's 1st hospital to be accredited with NABH. The hospital supports the accommodation of 350+ beds that are spread across 7 floors along with its state of the art laboratories that offer across the board diagnostic and screening facilities.
Contact Details
Address : Eastern Express Highway, Service Rd, Next To Viviana Mall, Thane, Maharashtra, 400601
Contact : 022 2172 5555
Email Id : [email protected]
Website : https://www.jupiterhospital.com/
7. Dr. Singh's Advanced Homeopathy Clinic
Welcome to the official website of Dr. Singh's Advanced Homeopathy Clinic. Dr. Singhs Advanced Homeopathy Clinic is run under the leadership of Dr. Rupesh Singh and Dr. Ritu R. Singh. Our clinic is conveniently located at 4 locations- Mira Road, Kandivali (E), Andheri (w), Vasai (w), and serving patients across Maharashtra. At Dr. Singh's Advances Homeopathy Clinic, we firmly believe in Why to play with your BODY with a knife & scalpel, when SWEET PILLS can save you with LOVE & CARE.
Contact Details
Address : Shop No 46, Surya Shopping Center, Next To ICICI Bank, Srishti Complex, Mira Road, Thane - 401107, Maharashtra, India
Contact : +91 9167672221
Email Id : [email protected]
Website : https://www.drsinghadvancedhomeopathy.in/
8. Dr Waphekar's Homeopathy Clinic
Dr. Rupesh Waphekar is a Homeopath in Manpada, Thane West and has an experience of 8 years in this field. Dr. Rupesh Waphekar practices at Dr waphekar Homoeopathic Clinic in Manpada, Thane West and Dr. Waphekar s Homoeopathic Clinic in Bhiwandi. He completed MD - Homeopathy from DKMM HMC, Aurangabad in 2015 and PG Hom, London from Hahnemann College of Homoeopathy, London in 2012. Diploma in International Academy Of Classical Homoeopathy, Greece in 2017.
Contact Details
Address : 211, Soham Plaza, Near Manpada Bus Stop, Beside Shri Sai Hospital, Ghodbunder Road,  Thane
Contact : +91-8048127643
Email Id : [email protected]
Website : http://www.drwaphekarhomeopathy.in/
9. Welling Homeopathy Clinic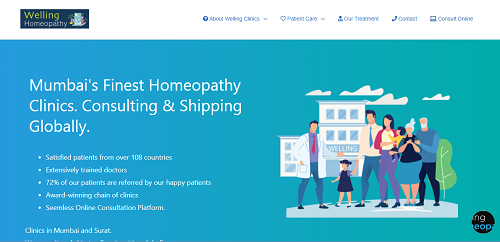 With concerns of safety of the conventional medicines increasing over the past few years, we are sure you would want medicines that are not only safe, gentle and painless but also more effective for you and your family.
Fortunately the trust in Homeopathy treatment has been growing massively over the past few years. No doubt, inspite of strong and sometimes absurd attacks on the Homeopathy treatment by the multi billion dollar pharmaceutical industry, today Homeopathy is the fastest growing branch in the healthcare treatment in the world. But whenever demand increases, mediocrity and inconsistent quality creeps in.
Welling Homeopathy Clinic offers some of the best Homeopathic doctors for the treatment of  your complete family. All our doctors are trained to handle advanced pathologies and the most complex illnesses. The doctors are hand picked by our directors and made to undergo an intensive training, making them one of the best homeopathic doctors, you can consult for your family. Welling Homeopathy Clinic in Mumbai is the only modern Homeopathic Clinic in India  that specialises in Cancer & Infertility treatment.
Contact Details
Address : A-102, 1st Floor, Sarovar Darshan Towers, Opp TMC, Thane Mahapalika Road, Panchpakhadi, Thane (w) 400602
Contact : (022)  2543 3639
Website : https://www.wellinghomeopathy.com/
10. Dr Batra's homeopathy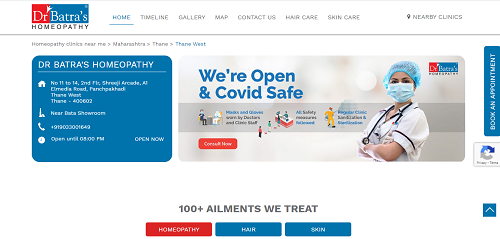 Dr Batra's is the largest chain of homeopathic clinics with over 225 clinics and more than 400 homeopathic doctors across 5 countries - India, UK, UAE, Bangladesh and Bahrain. The clinic in Thane, Mumbai was inaugurated in the year 2005. The team of homeopathic doctors in the clinic has treated over 29713 patients for various ailments with a success rate of 91%, as authenticated by American Quality Assessors. We also use GenoHomeopathy, world's 1st ever gene-targeted homeopathic therapy to predict and prevent your chances of getting health problems. The address of this clinic is No 11 to 14, 2nd Flr, Shreeji Arcade, A1 Elmedia Road, Panchpakhadi, Near Bata Showroom, Thane West, Thane, Maharashtra - 400602.
Contact Details
Address : No 11 to 14, 2nd Flr, Shreeji Arcade, A1 Elmedia Road, Panchpakhadi
Thane West, Thane - 400602
Contact :  +919033001649
Website : https://clinics.drbatras.com/