Are you looking for the Best furniture store in Delhi? luxury furniture can conjure images of smoke-stained chesterfield sofas, mahogany dressers, or antique wood-wormed wardrobes. But the luxury furniture industry is experiencing a renaissance, combining an unparalleled history of craftsmanship, quality materials, and eccentricity, with a more modern pulse. These are the 10 furniture Shop In Delhi you need to know about, each with their own unique history, style, and production manifesto.
We made a list of the 10 most AMAZING furniture shops you should visit right now (in 2021).
And, let me be clear about something:
This is NOT another online list of random furniture stores in Delhi.
We only included places that are legit and sell great furniture.
Ready? Let's dive right in!
1. FURNITUREWALLA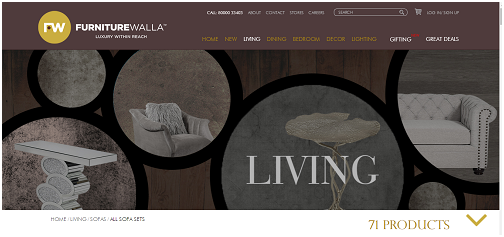 Founded in 1999 by FARHAN FURNITUREWALLA, FURNITUREWALLA FW today is a leading premium brand of Luxury furniture, lighting, art & home decor retailing from 4 signature stores in mumbai, delhi, bangalore & hyderabad. furniturewalla fw offers a world of contemporary luxury in the latest world home trends.Furniturewalla fw collaborates with architects, interior designers & builders for projects based on the company's product sourcing strength from around the globe established in 1999 with a warehousing facility of 70000 sq ft. Indulge & choose from over 2000 curated & handpicked products by laila & farhan Furniture walla from around the world & enjoy the modern elegance, contemporary vintage & aesthetic luxe of the collections. fw's mantra of ''luxury within reach '' makes haute living available to its clientele, furnishing lakhs of homes across india, enjoying extraordinary customer loyalty & trust. furniturewalla fw collaborates with architects, interior designers & builders for projects based on the company's product sourcing strength from around the globe established in 1999 with a warehousing facility of 70000 sq ft.
Furniturewalla fw's clientele boasts of the creme of society from industrialists, ceo's, the film industry, to politicians, builders, architects & interior designers from mumbai. furniturewalla undertakes project work with architects & builders having sourcing strength since 1999 from around the world.
Contact Details :
Contact Number:8287424545
Email ID: [email protected]
Website: https://www.furniturewalla.com/
2. Wooden street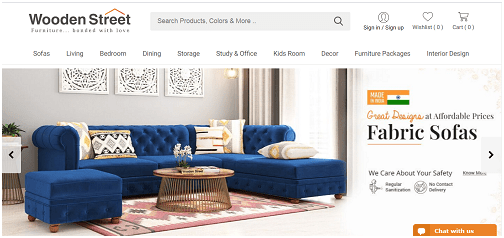 Online furniture seller Woodenstreet plans to use the funds to expand in new business verticals and take their experience Furniture stores beyond Delhi, Hyderabad, Bengaluru and Mumbai.
We are determined to deliver best-in-class quality, coming up with in-trend-and-beyond designs. Customer satisfaction is our main focus, which is the basis of our customisation services. We take our contribution to the community seriously and believe in delivering more than what we take. Integrity and Honesty keeps us on our path, making us persevere unless we have achieved our cause. Teamwork is the foundation of all that we have achieved so far.
Contact Details :
Phone : +91-9314444747|
Email ID : [email protected]
Website :https://www.woodenstreet.com/
3. Urban Ladder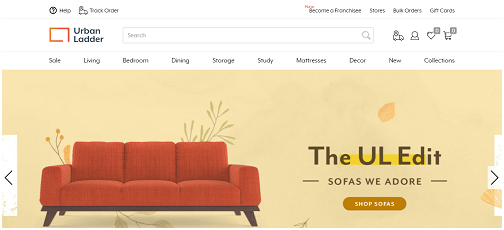 Even when choosing to buy furniture online, India prefers to still invest in solid wood furniture, just like the kind that makes a house feel like a home. Just like the homes, we grew up in! So, whether it is Sheesham wood Furniture Store In Delhi that makes any home look regal or clever space-saving furniture that gives the illusion of room when buying wooden furniture, India remains particular about it fitting their aesthetic sensibilities.
This is why Indian buyers like to see a wide variety of styles, prices, materials, and designs - why settle for anything less for your home? When you buy wooden furniture store in Delhi, you can avoid the terrible traffic and crowds and shop as you lounge on your sofa set with Urban Ladder.
Contact Details :
Contact Number:080 4666 6777
Email ID: [email protected]
Website: https://www.urbanladder.com/
4. Evok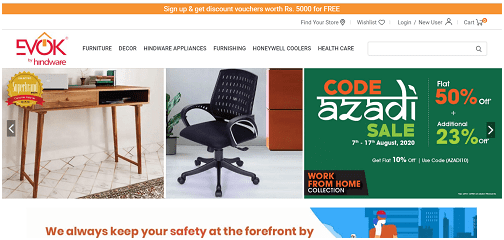 Furniture shopping in Delhi has never been so easy! The best products for your dream home are now even closer to you. Head to Timber Market, Kirti Nagar to the Evok store to get your hands on the best of furniture items for yourself.Just a 5-minute drive from Kirti Nagar metro station will take you to the massive Evok store spread over the area of 13,783 sq ft.
The outlet has more than 15,000 products on display, which essentially translates to you being spoilt for choices. You will find all kinds of furniture including bedroom furniture, living room furniture, bar furniture, dining room furniture, storage units or decor products. So whether you are looking for products to revamp your living space or you wish to make your space feel more like home, you can be sure to find all kinds of products at the Evok store. The store manager, Mr. Naresh Negi will be more than happy to guide you through and make you a part of the 10,000 + happy customers' family!
Contact Details :
Contact Number:1800-1207-577
Email ID: [email protected]
Website: https://www.evok.in/
5. IOTA FURNITURE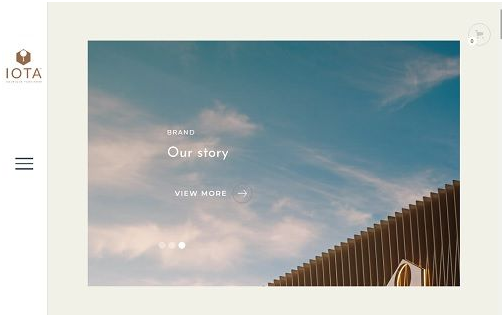 Since its birth, IOTA has been following a natural course of growth—whether it was transitioning into retail from its humble beginnings as a family-owned timber shop or strengthening its position in the Indian contemporary design scene with a renewed identity of a 'boutique store' in 2016.
Our selection boasts timelessly elegant design marvels from global heavyweights such as Ligne Roset, Kartell, Lenzi, Innovation Living, Arosio Milano, and many more. The expertly curated range of products, cherry-picked by our skilled design team, typifies the contemporary style, soul, and spirit.
Our boutique furniture store in Delhi is tucked away in the heart of Kirti Nagar, Delhi—a dreamy outpost where homeowners and design professionals come for an experiential service and consultative engagement. The corrugated, neo-futuristic exterior of our store is instantly recognizable and in keeping with our contemporary ethos.
Contact Details :
Contact Number:+91-11-41012280
Email ID: [email protected]
Website: https://www.iotafurniture.com/
6. Durian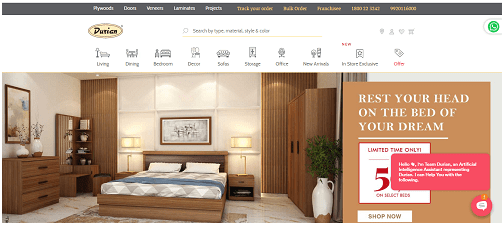 We; at Durian, have been at the forefront of the industry creating beautiful spaces for you within your homes and offices since 1985.With a successful start by importing our furniture we came up with our own factories that manufactures Sofas, Beds and Chairs. We are humbled to have touched the lives of millions of people with our range of world class home and office furniture, innovative laminates, sturdy designer doors, exquisite veneers and top-grade plywood.
From being the pioneers in veneer business to being the leading furniture company in Delhi and a lifestyle brand we have come a long way since then and the journey, so far, has been an enriching and memorable one.
We currently have 33 stores across India along with a successful foray into the eCommerce biz with our website www.durian.in. With our state of the art production facilities that make everything ranging from ply, laminates, veneers to sofas, chairs, beds, tables along with a whole lot more. We have scaled up our growth exponentially, with six factories at present. This is the relentless pursuit of our vision to be one of the best interior solution providers that has made what Durian is today.
Contact Details :
Phone No : 1800223242
Email ID : [email protected]
Website : https://www.durian.in/
7. IDUS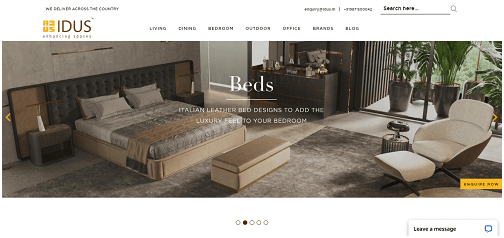 A beautiful piece of designer furniture adds more than function to any home, it infuses a breath of fresh life. A home should be the treasure chest of Lucent & luxurious interiors. Let people stare by making it worth their while with an exquisite range of home interiors.
IDUS is a luxury Italian furniture store in Delhiwith an experience of 4 decades in Interior Industry that caters to the needs and requirements of home furnishings, offering home & office furniture, lighting, flooring and complementary accessories. With unmatched products, unparalleled designs and distinctive character, IDUS is a premium and designer furniture online store in Delhi that merges classic designs with contemporary influences. Adorn your home with timeless interiors that
Contact Details:
Phone No: +919871500042
Email ID: [email protected]
Website : https://www.idus.in/
8. Krishna Furniture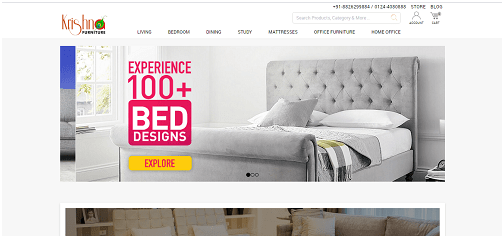 Registered in 2017 , Krishna Furniture has made a name for itself in the list of top suppliers of Wooden Center Table ,Dining Table Set in India. The supplier company is located in New Delhi, Delhi and is one of the leading sellers of listed products. Krishna Furniture is listed in Trade India's list of verified sellers offering supreme quality of Wooden Center Table etc. Buy Wooden Center Table ,Dining Table Set in bulk from us for the best quality products and service.
The largest furniture store in North India, Krishna Furniture is Gurgaon's most premium furniture store in Delhi. They manufacture Home furniture, Office furniture, Interiors, Modular Kitchen, Kids furniture items. A one-stop shop for Double Bed & Side Tables, Dining Table, Office Furniture, Curtains, Carpets & Rugs, Bedroom Chair, Dressing Table, Sofa's, Modular Kitchen, Wall Concepts in Gurgaon.
Contact Details :
Phone No : +91-8826299884
Email ID : [email protected]
Website : https://krishnafurniture.com/
9. Mor Decor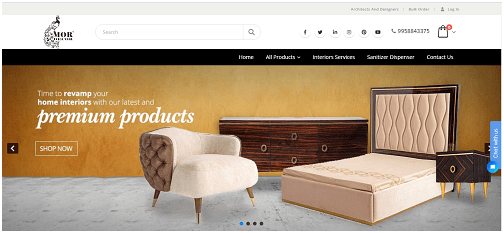 We are the leading manufacturer and supplier of all types of Italian luxury furniture which are made in India with Italian furniture design. In the series of Luxurious Italian Metal Furniture, Mor Decor manufactures luxurious Italian design Center Table, Side Table, Console Table, Dining Table, Sofa, Armchairs, Luxury Mirrors, Metal Doors, Room Dividers, Wall Art and many other luxury furnitures.
We also provide customize and concept designing to our valuable customers on all range of luxury furniture.
Contact Details :
Phone No : 9958843375
Email ID : [email protected]
Website : https://www.mordecor.in/
10. Furniture Adda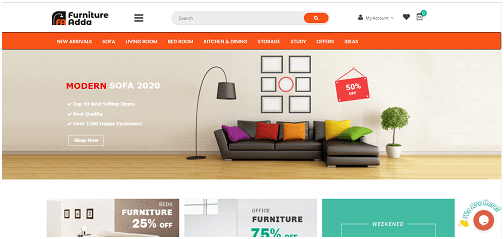 Furniture Adda is an Indian online retailer of modern, contemporary & rustic furniture and home decor accessories, which is registered under company Zippora Impex House. Our upscale styles are skilfully designed with form, fashion and function in mind.  We are widely known for our organic textures, modern designs and clean lines. Our methods and tools help us to create a unique collection of furniture that is one of a kind!
At Furniture Adda, we believe that home starts with a feeling. We accurateinspiration for the home, connecting the creative work of artisans and designers to our customers. We are proud to help our customers decorate their homes with the latest styles at affordable prices. We have a team of in-house designers and artisans who are constantly developing ideas and collections of the newest furniture design, home decor accents and furniture for any style to deliver our customers the biggest trends in home decor, through shapes, textures and colours.
Through exclusive designs, high-quality products and timeless style, we aim to offer inspired living and provide a seamless furniture shopping experience online!
Contact Details :
Phone No : 9971902272
Email ID : [email protected]
Website : https://www.furnitureadda.com/