1.Elitessential Cleaning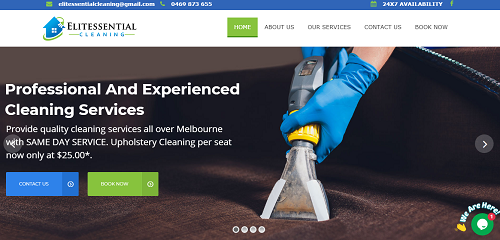 A natural calamity like a flood is expected to be unlikely but is highly unpredictable. There is no denying the fact that the amount of damage, any flood causes is daunting. The large floods cause a significant amount of loss, however, floods with a low magnitude to cause a lot of long-term issues like plumbing, sewerage, etcetera. And if this flood water stands still, it will spread various diseases and problems.
The importance of Flood Restoration in Abbotsford is based on the fact that flood water is contaminated and can cause umpteen problems. It is important to dry up the water and professional cleaning is required because the viruses remain intact to the surfaces. Hence, flood restoration is important for well-being.
Contact Details
Address:  Melbourne VIC, Australia
Contact: 0469 873 655
E-mail: [email protected]
Website: https://www.elitessentialcleaning.com.au/
2. Pocka Dola
Pocka Dola is the best carpet flood damage company in Abbotsford .  Pocka Dola's Specialist Carpet Flood Damage Technicians are equipped with the tools and expertise to help you with all your carpet flood damage needs.
If your business or home is damaged because of flooding, humidity or excessive moisture then time is of the essence.  Pocka Dola's Carpet Flood Damage Services Abbotsford offers emergency relief 24 hours a day seven days a week so call us now on (03) 9111 5619.  You'll be glad you did! Pocka Dola's Carpet Flood Damage services Abbotsford produces awesome results for awesome people!
Contact Details
Address: 6/677 Park Street Brunswick VIC 3056
Contact: (03) 9111 5619
Website: http://www.pockadola.com.au/
3. Squeaky Green Clean
Carpet Flood and Water Damage Restoration Abbotsford Airport- Our Certified Carpet Cleaning Restoration Technicians are specially Trained to quickly treat Water and Flood Damaged Carpets.This week special on Carpet Flood and Water Damage Restoration Abbotsford Airport 10% offUnfortunately, flood restoration is not a quick fix. Excess water is extracted from the affected area.
Contact Details
Address: Melbourne Victoria, Australia
Contact: 0407 727 117
Website: https://squeakygreenclean.com.au/
4. Flood Response
At Flood Response, we aim to educate. Many people are surprised to learn that most flood damage occurs from burst flexi hoses and blocked gutters. Flexi hoses are often used to connect water outlets to taps, sinks, basins, washing machines and dishwashers.
We recommend regular replacement of flexi hoses and cleaning of gutters to avoid serious damage to a property.
Contact Details
Address: 202 Langridge St, Abbotsford VIC 3067
Contact: 1300 819 396
Website: https://www.floodresponse.com.au/
5. CJB Restoration
Talk to your insurance agent or broker. Waste water or sewage back-up damage may be covered by your insurance policy. (Water seeping into a residential basement is not eligible because this type of damage is very common.)
It is very important that you try and minimize the amount of time spent walking in the sewage affected areas. Even though the water may appear to be clear or clean, it still can contain bacteria and pathogens harmful to humans. Walking into these affected areas may also lead to cross contamination by tracking water into unaffected areas of your home and spreading contamination. It is highly recommended that you wait for CJB technicians to arrive as they are trained and have proper Personal Protective Equipment (PPE), antimicrobial solutions, and air quality control equipment to mitigate the spread of contamination. If you must handle any affected contents or materials please wear gloves (latex, rubber, nitrile), keep hands away from face/mouth and wash hands frequently. Keep children away from the area and most importantly NEVER use fans or air movers in an attempt to dry water damage from a sewage flood, it will only spread potential contaminants.
Contact Details
Address: 30488 Great Northern Avenue Abbotsford, BC V2T 6Y6
Contact: (604) 864 8884
E-mail: [email protected]
Website: https://cjbrestoration.com/
6. S.A.H. Restoration
S.A.H. Disaster Restoration Services Ltd. is an Emergency Water, Fire, & Flood Disaster Restoration, Hazardous Materials Contractor, & Repair Contractor for home and business owners, strata corporations, strata agents, property managers, building managers, & insurance brokerages or insurance adjusters.
We are available 24 hours a day, 365 days a year, & always ready to respond to your emergency restoration call.  We provide full service emergency response.  Our technicians specialize in water & flood damage response, sewage extraction, fire & soot cleaning, wind and hail damage, asbestos abatement, mold remediation, fentanyl decontamination, carpet cleaning, break & enter repair, & trauma scene decontamination. Our management team will provide thorough inspections, detailed reports, great communication, competitive pricing, & a full scope of repairs.
Contact Details
Contact: 1-855-824-1508
Website: https://www.sahrestoration.com/
7. Master Clean
Master Clean, a privately owned and operated company, provides  and residential commercial cleaning services and Flood restoration in Melbourne and the surrounding area. Our dedicated team of cleaning specialists has over 30 years of experience in the industry.
Contact Details
Address: 1367 N 8th St Medford, WI 54451
Contact: 715-748-3121
Website: https://www.mastercleanwi.com/
8. Carpet Cleaning World
Water and Flood damage restoration in Abbotsford is the process of repairing and restoring your wet flooring and wet building materials after they have been flooded due to water loss. At Carpet Cleaning World Abbotsford the technicians are qualified and registered with IICRC (Institute of Inspection Cleaning and Restoration Certification) in Water Restoration Damage (WRT). Our Flood / Water Damage Restoration services in Abbotsford are operational with the best technology to dry all flooring and Structures (walls, ceilings, etc.)
Our Flood/Water Damage Restoration Abbotsford team considers delivering the best potential service, before the condition becomes any worse (I.e Mould).
Contact Details
Address: Melbourne, VIC
Contact: 0430 334 325
E-mail: [email protected]
Website: https://carpetcleaningworld.com.au/
9. NorthStar Restoration Services
If you've suffered extensive water damage to your property you need to enlist the help of NorthStar Restoration Services. We have over ten years of experience helping customers recover from Flood Restoration in Melbourne, using modern drying technology and our commitment to client satisfaction to ensure that those affected are able to return their properties in no time.
No job is too big or small and our solutions are tailored to meet the needs of any situation, so you'll never pay more than you have to. Whether it's a commercial building devastated by river overflow or a simple bathroom flood, our focus is to get businesses back in business and families back in their homes.
Contact Details
Address: 4900 Stewart Ave Wausau, WI 54401
Contact: (715) 636-0526
Website: https://www.northstarrestorationservices.com/
10. Canstar Fire and Flood
They understand the value of lounges, sofa, Flood restoration , and leather or fabric furniture and take special care by using only eco-friendly products to ensure the best possible outcomes of their upholstery cleaning.
Canstar Restorations is a full-service Flood Restoration company in Abbotsford offering a complete range of building and contents restoration services. In addition to repairing fire, water and storm damage, we clean up and safely dispose of hazardous materials including trauma scene biohazards, asbestos and mould.
Contact Details
Address: 110-2582 Mt. Lehman Road Abbotsford, BC
Contact: 604-425-1544
Website: https://www.canstarrestorations.com/
About Author
Lucy Brown
Digital Marketing Consultants In Mumbai