A car used regular in daily life. So car that goes for regular car service and car maintenance gives huge dividends in fuel efficiency too. Regular changing of oil, coolants, radiator fluid, and other vital fluids vastly improve fuel efficiency and repair the other parts of the cars to drive safe.
If you are searching for the Best Car Repair in Mumbai, here are the top 10 car repair in Mumbai.
Top 10 Car Repair in Mumbai
1. CarFixo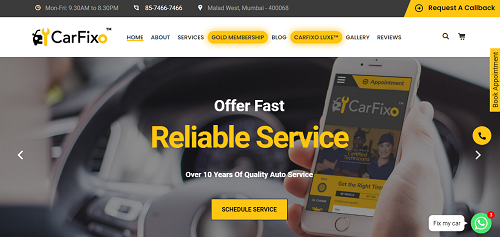 CarFixo is a leading professional Multi Car Workshop and Automotive Service Company known for providing a full range of top-quality car repairs and world-class maintenance services in Mumbai, Navi Mumbai, and Thane.
At CarFixo, we are backed by an adept team of highly-skilled and well-trained automobile engineers and experienced technicians who employ cutting-edge technology and advanced equipment to deliver seamless and reliable car services.
We are a one-stop solution for all your  maintenance needs and car repair in Mumbai. Experience true comfort and convenience by getting a free car inspection and diagnosis at your doorstep and our contactless and free pickup and drop-in services.
Contact Details
Address: Malad West, Mumbai - 400068
Contact: 85-7466-7466
Email Id: [email protected]
Website: https://carfixo.in/
2. ICCU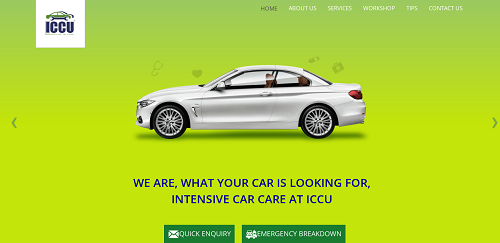 You have a car and have seen the authorized workshop and the road side garages. Trust & Reliability is not usually associated with the Roadside Garages. With Authorized workshop, high maintenance bills because of their Policy of "Replacement" over the "Repair" makes your CAR Ownership very Regretful. Life becomes difficult when you have to send different brand of cars to different workshop. You always preferred the workshop to be close to your place of work or residence and the workshop took the car for servicing and delivered it back. All plans hinged on car delivery goes for a toss when your car is not available on committed time. Lastly, Owning a car comes with a lot of comfort, but sometimes being a car owner can be scary, sudden break down or refuses to start. What do you do? That's when you need an Emergency Service Number that you can Contact.
Contact Details
Address: 06, Jangleshwar Industrial Premises, Behind DIC India Pvt. Ltd.,
Chandivali Industrial Area, Chandivali, Mumbai - 400 072.
Contact: +91-7777034301
Email Id: [email protected]
Website: https://www.iccu.in/
3. FortPoint
FortPoint is an authorized Maruti Suzuki dealership located in Mumbai and Thane. The dealership was established with a vision to offer excellent pre-sales and after-sales services to its customers, and within a short period of time it has been able to achieve outstanding success in the dealership world. Catering to various customer's mobility needs, FortPoint offers the latest range of Maruti Suzuki cars and a range of certified pre-owned cars at reasonable prices.

Other auto services include offering suitable finance & insurance deals, repair services and specials. Also the dealership provides an array of accessories at attractive prices. The dealership is backed by a team of talented and experienced professionals who works persistently to deliver the best customer services for a happy car buying or repairing experience.
Contact Details
Address: Ground, 1st & 2nd Floor, Meru Bldg,Old Jaihind Cinema, Nr.Voltas Bldg,Chinchpokli(East), Mumbai - 400 012.
Contact: +91-9594973671
Website: https://www.fortpointmaruti.com/
4. Autocop Services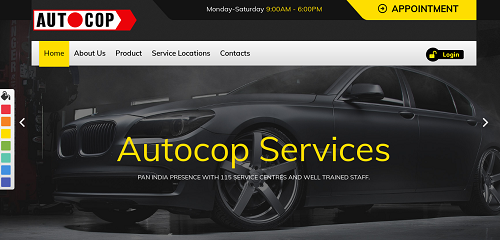 Autocop has been the undisputed leader and acknowledged pioneer in the field of electronics and technically advanced car safety, security and comfort systems in India for the last 24 years.
So we know what India needs. Researched, designed and manufactured in India, Autocop TRACKPRO offers vehicle tracking solutions made specially for the Indian roads. Our enterprise partnership with Google ensures that you get the most accurate location data.With a large number of report options available, you get all the information you will ever need about the whereabouts of your vehicle; when you need it, as you need it. And our rich history allows us to provide you all of this at unbeatable prices that match every budget! So go ahead and explore the world. We are here to make sure you will never go off the map.
Contact Details
Address: Autocop (India) Pvt Ltd A-35 , 2nd Floor, MIDC, Andheri East, Mumbai - 400093, Maharashtra
Contact: +91 22 40783333
Email Id: [email protected]
Website: http://www.autocopservice.com/index.html
5. Repairs24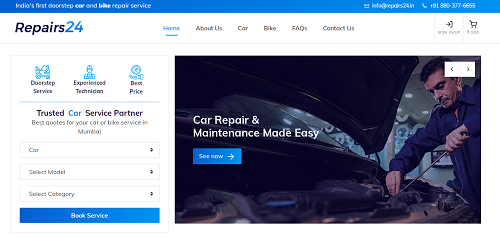 Repairs24 helps the garages to set up the workshop in an organized manner with technology, human force, infrastructure investment to make it look more professional and get businesses for them, which is a win-win situation for both - the customers and the garage's owners as well.
We aim to provide budget-friendly services and privately-owned car garages. The reason what makes us distinct from the traditional auto-mechanics shop is our doorstep auto repair services. Just sit back and relax in your home as our expert mechanics will pick and drop your vehicle from your doorstep. Our trained technicians repair your car at an affordable cost with complete transparency.
Contact Details
Address: Citi Of Joy, 129, Ecstasy business Park, Mulund West, Maharashtra 400080
Contact: +91 8803-776-655
Email Id: [email protected]
Website: https://repairs24.in/
6. Best Way Motor Work
Car is a luxury for a lot of people, and there are a lot of times when the car stops working due to some or other reason. We have come up with the Premium Car Repair In Powai, Mumbai for all the people, who want to get their car repairs under budget. We have a team of professional mechanics and car experts who have years of expertise, and always make sure that the car is in a good condition.

Our Premium Car Service Center In Powai, Mumbai is highly praised because we have the best tools, with the help of which we are always successful in rendering successful services. If you have any car, that requires servicing, then you don't have to worry anymore as we are here at your service.
Contact Details
Address: Gala No - 1, Opposite Micro Lab, Osmania Compound, Chandivali, Powai, Mumbai - 400072
Contact: +91 8587004753
Email Id: [email protected]
Website: https://bestwaymotorwork.com/index.html
7. Sahara Motors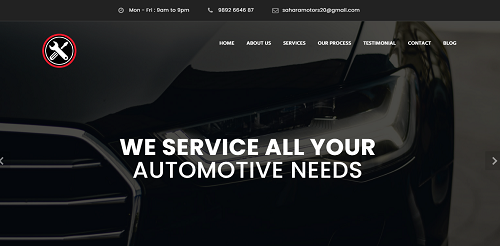 At Sahara Motors all car mechanic services are performed by highly qualified car mechanics. We have High Quality & Trusted Car Service Center. Free pickup and drop for super convenient service anywhere in Mumbai from booking to delivery. We only replace the part when necessary and help you save thousands of rupees by repairing the part whenever possible and safe. We specialize in offering superior car care services like car maintenance, car modification, car AC/audio stereo repair, Car Repair in Mumbai, wheel, car wash, alignment, balancing, car painting, car wrapping, interior, exterior cleaning, and more.
Contact Details
Address: N.S Phadke Road, Juhu Lane, Near Nasar Building, Andheri West, Mumbai, Maharashtra 400058
Contact: +91 09892664687
Email Id: [email protected]
Website: http://saharamotors20.com/
8. Angel Auto Wheels
We, Angel Auto stand strong in serving you with our vast experience of 20 Years in Automobile business with our well trained and qualified staff. To ease the process of owing the New vehicles we provide our expertise in Buy Back- Exchange, Vehicle Finance and Accessories.
Angel Auto came into existence as a partnership firm in 2004. We opened the biggest ever multi car showroom, at Vasai. We were the first, to open a multi car showroom in Vasai, where we displayed latest cars, offering a wide choice to customers in selection of their car models.
The showroom started attracting people not only from Vasai but from surrounding places like Virar, Palghar, Boisar and Wada region. We were the first multi car showroom, where besides cars on display, other allied services like easy finance, genuine accessories and exchange of used cars were available, all under one roof with a team of well groomed and trained staff, to assist customers in their decision making while buying cars of their choice and need.
Contact Details
Contact: 9168666335
Email Id: [email protected]
Website: http://www.angelmahindra.com/
9. Autotech Center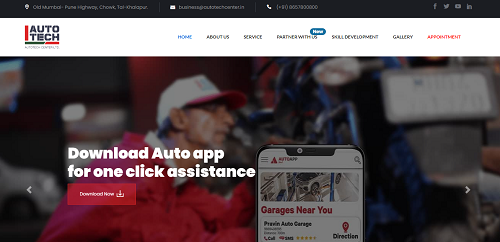 Autotech is the new generation business idea, that forms a pioneer establishment in automobile service industry with advanced and Hi-Tech technology.
We make every effort to provide you with excellent service and customer care. That is one of our prime goals and also a necessary reflex every time you bring your vehicle into the Autotech Center. Autotech is known for providing service that is both affordable and beyond expectations.
Contact Details
Address: 22nd floor, sunshine tower, Elphinstone, Dadar (W), Mumbai-400013
Contact: (+91) 8657800800
Email Id: [email protected]
Website: https://www.autotechcenter.in/
10. DM Autoworks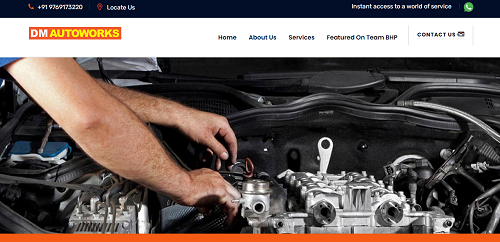 Pursuing his dream, Dev graduated from Jai Hind College, Mumbai with a B.Com Degree and has been involved in the field since a few years. His knowledge and passion towards automobiles made him believe that starting an auto repair and service business was his true calling. Pioneering, hardworking and integrity are words that describe what he would like to be known for.
DM Autoworks was founded for two reasons, first to establish an automotive maintenance and service center that customers can truly trust and second to follow his passion for providing excellent service, embracing technology and a love for automobiles.
Dev's prime focus is on making his customers happy with the correct service or repair, timely and professional service, and fair price. His main goal is to help customers get the most life out of their vehicle investment. He works towards taking care of people, not just their cars.
Contact Details
Address: Gora Gandhi Compound, Sane Guruji Marg Behind Hirakunj Building, Tardeo, Mumbai, Maharashtra 400034.
Contact: +91 97691 73220
Email Id: [email protected]
Website: http://www.dmautoworks.in/