Placement Agencies means they will provide job according to your qualification. Placement Agencies is everywhere in the world who help the people to find the perfect jobs for you. Many companies higher the agencies for find the employees for their company. So here is the list of Top 10 Placement Agencies in Mumbai.
1. Shella Consultants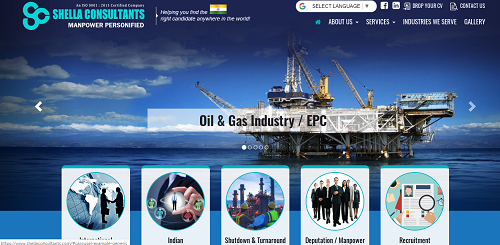 Devoted to commenced and preserve an optimistic difference to your staffing needs, we at Shella Consultants, are a headhunting and manpower recruitment firm of high repute and recognition. We have gained this recognition by providing exemplary customer service and competent employees to diverse corporates, of all sizes; in India, Gulf, Europe, U.K, U.S.A as well as other parts of the globe.

Our firm enthusiastically performs its work in acceptance to cater your manpower necessities, procuring the candidate with the desired profile and building trusting relationships. Owing to our industry expertise, we comprehend that firm's today have need of more than an able candidate; they reach for employees who are productive, exhibit a positive attitude and have the ability to become a member of their team.
Contact Details
Address : 1203, Universal Majestic, Ghatkopar Mankhurd Link Road, Chembur West P. L. Lokhande Marg,, Mumbai - 400043, Maharashtra, India
Contact : 08048402185
Email Id : [email protected]
Website : https://www.shellaconsultants.com/
2. Sankalp Placements India Pvt Ltd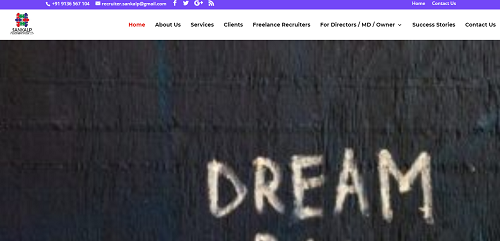 Sankalp Placements India Pvt Ltd., is a full spectrum Human Capital Services Company. Sankalp was founded in 2003 with the vision of delivering effecting HR solution to our client as per their needs. We are a team comprising of young, enthusiastic and dynamic individuals. Sankalp surpasses a count of 1000 quality recruits across a mix of mid sized, private and multinationals. Our strong network of clients, our recruits and their references and our wide arena of services help us to brand our HR services portfolio and extend our innovative and cost effective services.
Contact Details
Address : Sankalp Placements Pvt. Ltd.207 , Marthanda Building ,Dr Annie Besant Road, Worli Naka,Mumbai, Maharashtra 400018.
Contact : +91 913 656 7104
Email Id : [email protected]
Website : http://sankalpplacements.com/
3.  M.Gheewala Global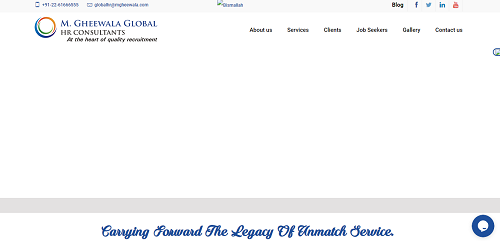 Linking fine talents of candidates with great opportunities available within an organization is matchmaking at its best. At M.Gheewala Global HR Consultants, we transform this into an art worth emulating. Blending the needs of recruiters with the aspirations of job seekers, M.Gheewala Global provides a platform where both sides come close, identify each other's requirements and make informed decisions.
M.Gheewala Global HR Consultants, an ISO Certified 9001: 2008, Government of India Approved & Recognized Overseas Recruitment Agency, was founded by Mr. Mehmood M.Gheewala, who is also the Managing Director of the Company. M.Gheewala, a promising young go-getter, honed his skills by working with one of India's best-known recruitment companies and gained an unparalleled understanding of the distinct recruitment needs of organizations in the Middle East. It goes without saying that the MD applied the same high principles and values at the time of starting M.Gheewala Global.
Contact Details
Address : 202, 2nd Floor, Bombay Market, Tardeo Road,Mumbai 400034, INDIA
Contact : +91-22-61666555
Email Id : [email protected]
Website : https://mgheewala.com/
4. Kaavi Recruitment Consultancy Private Limited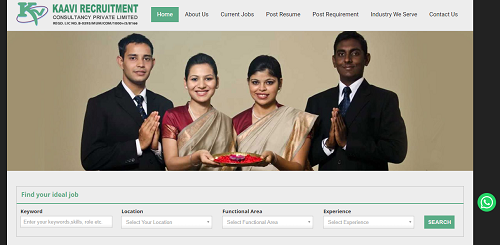 Kaavi Recruitment Consultancy Private Limited is registered by Ministry Of Indian affairs and having its license No B-0395/MUM/COM/1000+/5/8166 and Date of Expiry is 23/04/2023 to do International Recruitment all over the world. For over 13 years, we have been providing consultancy to our clients for major of the industry in Europe, North America and the Middle East Countries. We pride ourselves in the transparent and fair manner in which we work. We provide the best of the information to the clients with respect to the government rules and regulations and also current market situation in terms of recruitment procedure, salary structure of the candidates etc. We provide the quality candidates to all our clients and it matches to the profile send. Again it's just not India from where we recruit but again we have our associate offices in Dubai, Philippine, Nepal, Bangladesh, Sri Lanka, Romania, Burma, Delhi, Rajasthan, Punjab, Goa, Uttar Pradesh, Kerala, Andhra Pradesh and Uttarakhand to provide the staffing as per the requirements.
Contact Details
Address : B/116, Morya House, Morya Estate, Andheri Link Road, Andheri West, Mumbai, Maharashtra - 400053, India
Contact : +91-9769796361
Email Id : [email protected]
Website : https://www.kaavirecruit.org/
5. Placement local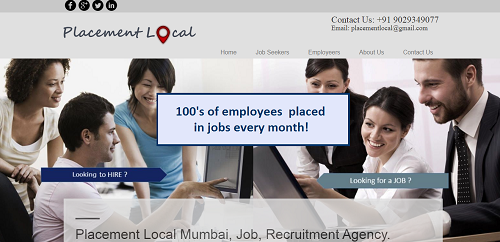 Placement local mumbai is one of the most reputed Placement / Recruitment consultants in Mumbai. It's rated among the top most placement agencies in Mumbai. At Placement local mumbai we believing in helping you gain your dream job. We are specialized in providing highly qualified and experienced professionals for senior level to Middle or Junior level. We believe in understanding our clients' needs and provide them with their desire candidates. In today's highly competitive world we require experienced, skilled and hardworking professionals to get an edge in the rat race. Placement local mumbai is a fastest growing placement agency in Mumbai.
Contact Details
Address : 201, 2nd floor, Bhimratna building, MMRDA Colony, Panjarapol, Dinquary Road Near Shani temple, Deonar,Chembur Mumbai - 400 088 Maharashtra, India
Contact : +91-9029349077
Email Id : [email protected]
Website : http://www.placementlocal.com/
6. Excel HR Solutions Pvt. Ltd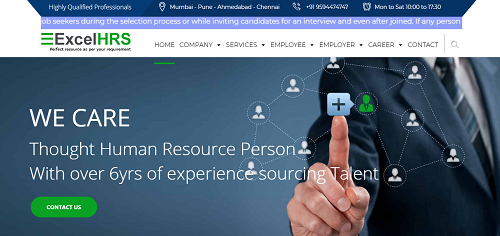 Excel HR Solutions Pvt. Ltd. Formerly known as Hr Consultancy in Mumbai was founded in 2011 ExcelHRS is professionally managed company with qualified management and Talent acquisition Team providing end to end recruitment solutions. Over the couple of year we have acted as admired and preferred recruitment partner.Our commitment is to deliver prompt and high quality placement services to both client and candidates. Proud to say we are PAN India based one of the top recruitment and placement agency in mumbai.
Contact Details
Address : F-8, Dreams Mall, Near Station, LBS Road, Bhandup (W) Mumbai-400078
Contact : +919594 474747
Email Id : [email protected]
Website : http://www.excelhrs.com/
7. Cargo Placement Services & Agencies Pvt Ltd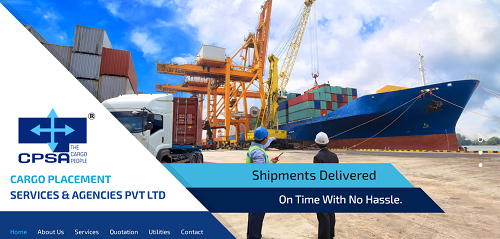 We at Cargo Placement Services & Agencies Pvt Ltd strive our best to offer the right solution to your business requirement by providing the competitive rates, optional ideas & right information on the present service trends on supply chain at different levels.

We provide in-depth knowledge of global scenario on day today levels with schedules & effective measures taken to meet the successful commitments.
We are having a global network of agents who all are handling the freight shipments through their local areas. They are familiar with local customs and regulations.
Contact Details
Address : 604, Balaji Business Park, Opp. Mittal Estate, Andheri - Kurla Road, Marol, Mumbai - 400059
Contact : +91 93207 17377
Email Id : [email protected]
Website : http://cargoplacement.com/
8. Placement Consultants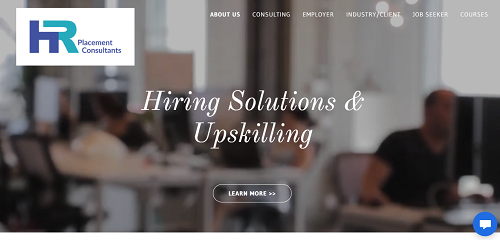 Established in 2017 as a HR Boutique Firm serving customised solutions for Corporates who believe in Human Capital,being the strongest contributor to their accomplishment of Business Goals.We are HR Business Partners to various Companies seeking good Talent to build their organisationsWe guide Talent to emerge into Leaders and have meaningful purpose in their Careers.Playing the role as mediator to Companies & Talent
Contact Details
Address : Office No. G-09, Ground Floor, Xth Central Mall, Mahavir Nagar, Kandivali (W), Mumbai-400067,India
Contact : +91- 91360 95503
Email Id : [email protected]
Website : https://hrplacementconsultants.com/
9. Vira International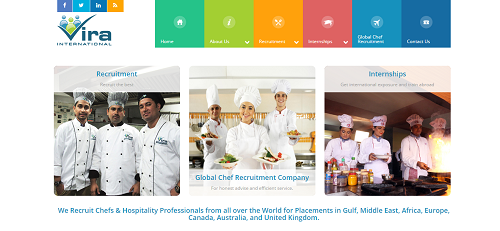 The mission of Vira International is to be recognized as a quality driven agency committed to the provision of professional recruitment solutions.Our mission will be realized through the application of solid industry experience, superior business practices and dedication to building genuine long-term partnerships resulting in a professional business environment in which the client, candidate and agency will thrive.
Contact Details
Address : 4Tth Floor, C wing, Twin Arcade, Military Road, Marol, Andheri (East), Mumbai - 400059, India.
Contact : +91 2229 200 000
Email Id : [email protected]
Website : https://www.virainternational.com/
10. Ajeets Management & Manpower Consultancy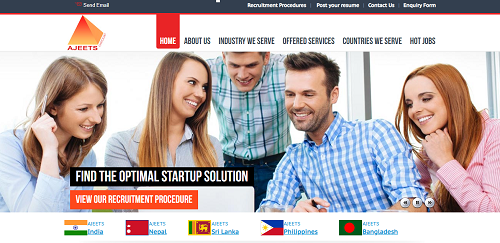 Ajeets Management & Manpower Consultancy has positioned itself amongst the topmost recruitment service providers, since 2006. We are the primary job consultancy service providers in various domains including medical, oil, refinery, petrochemical, hospitality, marine and many others. With our extensive and consistent endeavors, our company reputed itself at global level by rendering human resource & management services and overseas manpower recruitment in Gulf/Middle East. Ajeets Management & Manpower Consultancy is focused about delivering recruitment services for almost all the industries. Since 2006, we have developed large database of candidates having dissimilar skills and qualifications.
Contact Details
Address : A-407, Western Edge, Phase II, W. E. Highway Borivali East, Mumbai - 400066, Maharashtra, India
Contact : 08048077422
Website : https://www.ajeetsrecruitment.com/