1. e10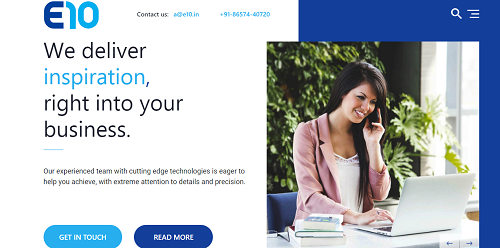 e10 Infotech has started in the year 2010 by a young entrepreneur with the objective of providing world class software solutions. The Company offers a variety of IT services using the best-fit and state of the art technologies.
In just few months, the company has developed domain expertise in a wide range of industry verticals.
Last decade of porfolio inludes a vast domain but not limited to Entertainment, eLearning, Security, Virtual Reality, Finance and Banking.
Contact Details
Address : B-110 Bhoomi HillsThakur Village Kandivali EastMumbai, MH 400101
Contact : +91-86574-40720
Email Id : [email protected]
Website : https://e10.in/
2. Nuwebwave Technologies Private Limited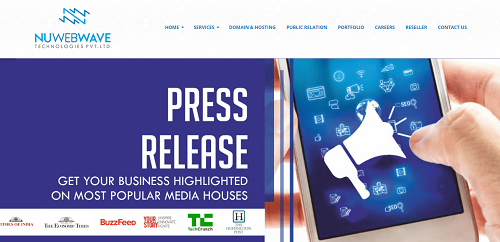 NUWEBWAVE TECHNOLOGIES PRIVATE LIMITED is an experienced Responsive Website Designing (RWD), Search Engine Optimization (SEO), Social Media Optimization (SMO), Ecommerce Website Designing, Android and IOS Application Development Company in South Mumbai, Maharashtra, India. You create your dreams and make a BRAND. We are a leading Branding company also providing full range of Branding Services Ranging from Online to Offline (BULK SMS, BULK EMAILS, BROCHURE DESIGNING, LEAFLETS DESIGNING AND CORPORATE BRANDING AS PER CLIENTS REQUIREMENTS).
Contact Details
Address : SVP Road, Bangad Wadi, Dadarkar Bldg, 3rd Floor. Mumbai-400 004
Contact : +91-9004792888
Email Id : [email protected]
Website : https://www.nuwebwave.com/
3. Tokyo Techie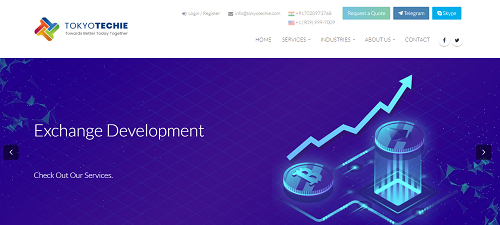 It has taken the fearless leadership and infinite contributions of experts round the world to make Tokyo Techie as global organization. TokyoTechie is legal registered entity brand name and founded for the purpose of catering B2B & B2C technology services by technology geeks who are having 10 to 15 years of niche IT skill-set and consulting experience throughout the globe in different domains.
We are global IT development and consulting firm that serves a broad mix of private and public sectors. We tend to facilitate our clients make essential and lasting improvement to their performance and realize their most important goals.
Contact Details
Address : Parinee Crescenzo, 1B-1003, G Block BKC, Bandra Kurla Complex, Bandra East, Mumbai - 400051 Maharashtra, India.
Contact : +917020973768
Email Id : [email protected]
Website : https://tokyotechie.com/
4. BigSun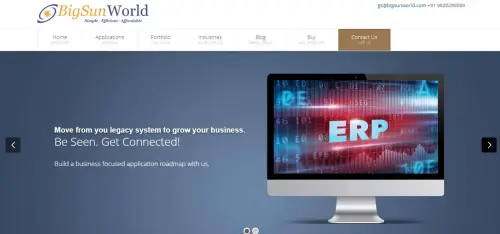 BigSun Technologies Pvt. Ltd. is a dynamic, business-oriented leading ERP solutions provider firm headquartered in Navi Mumbai, India. The company has pioneered deployment of simple innovative ERP Software solutions focusing on precise business requirement of the clients. BigSun Technologies is an established leader offering highly efficient ERP
solutions catering to diverse industries such as Healthcare, Media, Manufacturing, Hospitality, Infrastructure and Engineering.
From its humble beginning in 2009, the company has grown to become a multinational corporation with offices located in Bangalore, Pune Hyderabad and several other locations in India. BigSun Technologies is an ideal business partner for companies looking for Billing Software, Accounting Software, Inventory Software and CRM Solution. The company's major technological achievement includes development of a comprehensive, integrated Hospital Management System designed to help health care service providers streamline processes, increase patient safety and improve communication across departments providing patient care.
BigSun Technologies is one of the leading independent international vendors of ERP Software and Solutions with big list of national and international clients. With more than 5 years of experience and backed by a strong dedicated workforce, the company has a wealth of knowledge required to develop tailored ERP software solutions meeting your specific business needs. The company's strong ERP implementation strategy has earned accolades from esteemed clients and envy from competitors.
Contact Details
Address – B-406,Technocity, Plot No.X-4/1,4/2,MIDC, TTC, Mahape, Navi Mumbai - 400710
Mob No: (91) 886 011 8923
Email id: [email protected]
Website: https://www.bigsunworld.com
5. Brainvire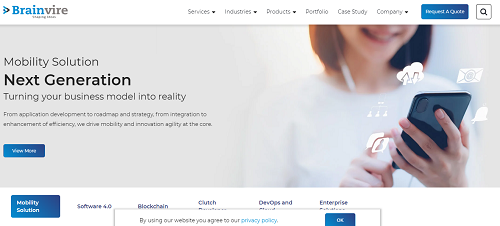 Brainvire was founded in 2000 as an IT consultancy and digital enabler, and grew to become a worldwide presence in countries like the United States, Canada, Dubai, Singapore, the United Kingdom, and more. From day one of our inception, we have firmly believed in our potential to be a leading development firm, had confidence in our teams' kick-butt expertise, and we swore by our computer codes. It is not just our work but what we're known for! Our needle-like focus on our clients' strengths and weaknesses is what sets us apart from our competitors. Also, it is our teams' creativity and curious nature that help us come up with innovative approaches to tackling challenges. This perfect blend is what helps us deliver a first-class digital product.
Contact Details
Address : E 701 Lotus Corporate Park, Laxmi Nagar, Western Express Highway, Goregaon (E), Mumbai 400063, India
Contact : +91-22-61163300
Website : https://www.brainvire.com/
6. Revolux Solutions Private Limited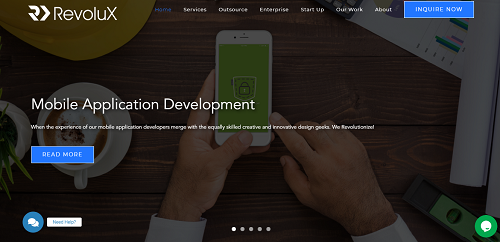 Revolux Solutions Private Limited is a leading software, web, mobile apps development company headquartered in Mumbai. Our ace services are supported by a capable team who are self motivated, kick-starters with exceptional experience and extraordinary intelligence across industries.
We provide better alternatives for an efficient digital marketing. Our services are known for their level of expertise and technologies used. We house some of the best digital marketing analysts and strategists, who have a proficient knowledge about their work and are dedicated towards creating better digital marketing strategies for all types of different business.
Contact Details
Address : F Wing, Unit No. 338, Solaris 1, Saki Vihar Road, Opp. L&T Gate No. 6, Powai, Mumbai, Maharashtra – 400072
Contact : +91 22 49707891
Email Id : [email protected]
Website : https://www.revoluxsolutions.com/
7. Auxesis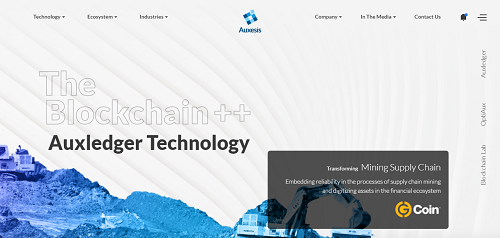 Auxesis, established in 2014, is developer of Auxledger Technology, a step-up form, inspired with the capabilities of Blockchain while focusing towards Enterprise usability and mainstream adoption.

With the remarkable technology in place, Auxesis is enabling a coherent ecosystem of technology adopters, platform partners and skilled developers working together to bring the 4th Industrial Revolution.
Contact Details
Address : #601/#614, ATL Corporate Park, Saki vihar road, Powai, Mumbai 400072, India
Contact : +9122 6283 2000
Website : https://auxesisgroup.com/
8. Biz Technologies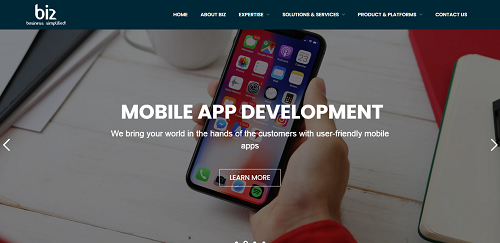 Biz Technologies is an established software development company that has gained tremendous expertise over a period of time. Our strength has been in web development, offering mobile development, digital marketing, IOT development, Blockchain solutions, and staffing to multiple brands and startups.
We at Biz technologies help you find out all solutions related to web services. Serving people for more than years it's our job to convince you that you are at the right place and with us, your Trade can touch the skies. Biz technologies comprise a team of enthusiastic entrepreneurs who constantly work and focus on quality, innovation, & technology.
We believe to take your business to the next level. Everyone whom we work with becomes a part of our team. We altogether face the challenges and celebrate our success.
Contact Details
Address : 412, Gundecha Industrial, Akurli Road, Kandivali East, Mumbai.
Contact : 022 61586555
Email Id : [email protected]
Website : https://www.biztechnologies.in/
9.  Sofocle Technologies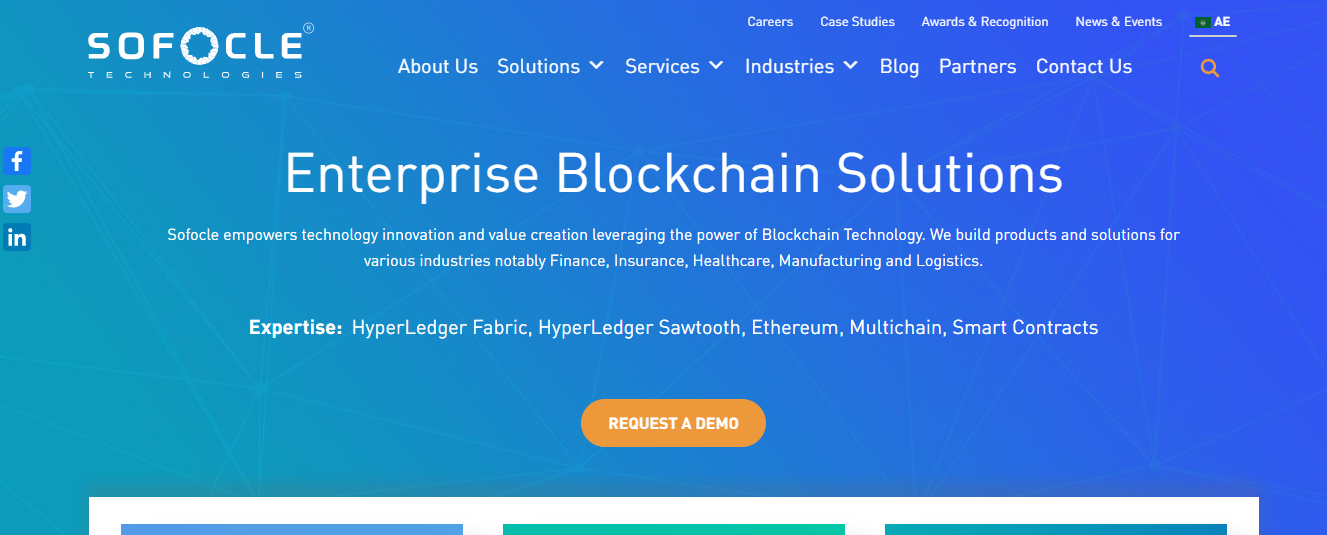 We are a group of researchers, developers, project managers and consultants, with the core aim of brain storming revolutionary Blockchain concepts and converting them into Enterprise solutions that can solve real business problems.
Our coders have the experience of developing completely fresh Blockchains from Bitcoin Blockchain open source code and are fond of converting complex transactions and sequence into codes. Not only coders, our consultants have handled clients from various industries & geographies and are well aware of core problems of each of these industries.
Contact Details
Address : 1902, 19th Floor, Tower B, Rise, Paninsula Business Park, G K Marg, Lower Parel, Mumbai-400013
Contact : 0120 4757000
Website : https://www.sofocle.com/
10. Aalpha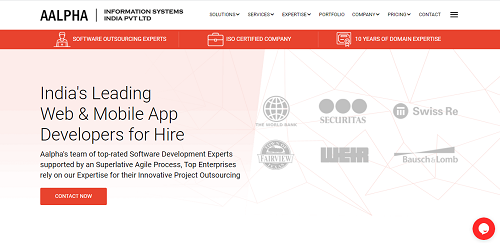 Aalpha Information Systems is the leading provider of IT consulting and custom software development solutions. We deliver years of domain expertise and unmatched value to our clients. Our solutions power operations of clients across critical industries such as finance, retail, ecommerce, healthcare, travel, hospitality and ISVs. We are one stop solution for your IT needs in critical Mobile app, responsive Web application and Cloud/ SaaS development.
Contact Details
Address : Ashirwad Building, Tardeo Mumbai, MH 400036, India
Contact : +91-836-4262222
Eamil Id : [email protected]
Website : https://www.aalpha.net/
11. Hyperlink Infosystem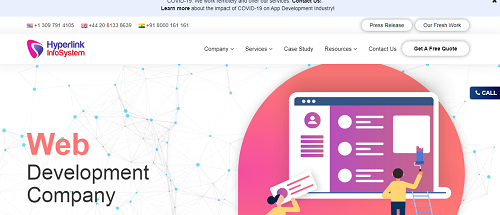 Ahmedabad-based Hyperlink Infosystem is believed to be one of the popular providers of IT services. The professional company is closely structured in such a way to offer more acquirable results and solutions for use in a variety of businesses, encountering problems in information and technology sector. We have a good and proper coordinating partnership between the company's intramural internal environments and emerging external IT surrounding.
The enhanced brand equity and sales shall actually determine the promising results of this IT service provider. The success of the company is measured in such a way on how the people share, enjoy as well as obtain advantages from the efficacy. Some of our company values are hard work, growth, integrity, enthusiasm, and helping each other.
Contact Details
Address : Level 8, Vibgyor Towers, G Block, C62 Bandra Kurla Complex, Mumbai 400 098, India
Contact : +91 8000-161-161
Website : https://www.hyperlinkinfosystem.com/