Italian furniture design has always emphasised fine quality materials and beautiful craftsmanship. Read more about its history and discover the top 10 Italian furniture brands you need to know.
HISTORY OF ITALIAN FURNITURE
Whilst much of history would suggest that France has completely owned the luxury furniture and decorative arts worlds from the Louis' of the 17th and 18th centuries to the Art Nouveau and Art Deco of the 1910s-30s, Italian furniture has a unique and impressive history of its own.
Since the time of the Renaissance, Italian furniture has been as sought-after as its French furniture counterpart, with families like the Medicis playing a major role in developing the arts in Florence. And, even still, in the modern era, the contribution of contemporary Italian designer furniture has left an indelible mark, establishing the country as a major exporter of modern-day classics.
"Nowhere else in the world can one find so many varied examples, both in terms of conception and of formal outcome; so many applications of diverse forms, from fashion and graphics to product and set design; such an extensive and multifaceted documentation recorded in literature; and such an international resonance," says Paola Antonelli, senior design curator at New York's Museum of Modern Art and renowned expert of Italian Design, in the preface of Design Directory: Italy.
Consider the Castiglioni brothers, Vico Magistretti, Ettore Sottsass, Gio Ponti, Gae Aulenti, Marco Zanuso, Fornasetti, Harry Bertoia, Joe Colombo, Carlo Scarpa and Gabriella Crespi—all names which have become ingrained in the design world's vocabulary for their nonchalant Modernist style. These lodestars of Italian Design were proof of the country's creative vision in the second half of the 20th century and, these days, the same enthusiasm for innovative Design remains.
Paola explains, "To this day, Italian furniture design companies have been able to maintain their status and their experimental stamina and, in a time short of great indigenous designers, are attracting the best talents from all over the world. They keep the flag of Italian Design flying high."
TOP 10 ITALIAN FURNITURE BRANDS
These Italian furniture brands represent 10 of the best design-minded flag bearers.
1. MARION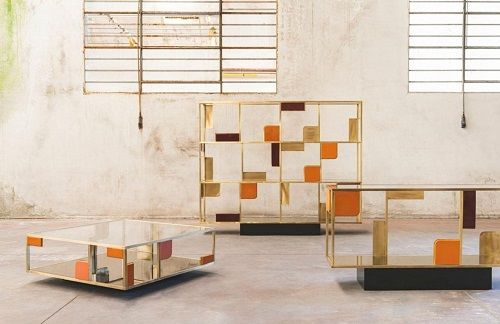 Known for: Confident, Italian statement style with a penchant for 20th-century Maximalism
Exquisite, channel-tufted sofas, sculptural metallic table lamps and dining tables delicately trimmed with decorative glass panels—not bad for an Italian brand that started as life as a small pottery workshop. Marioni, the first on our list of Italian bed brands, has come a long way in the last five decades (it was founded in 1966) and, whilst its brand name might not be as well known as the designer wall clock style, its pieces are no less impressive.
Its Maximalist tendencies (just look to its brilliantly named Notorious collection) showcase confidence in its abilities and an appreciation of the Modernism movement, which Italy contributed to greatly. Monochrome striped marble furniture recalls the Memphis Movement. Metallic elements nod to Carlo Scarpa architecture, and Milo Baughman-Esque swivels dining chairs online complete the collection. Traditional Italian Design characterises the rest of its range, but it's these statement pieces that inspire.
2. SMANIA
Known for: Furnishings, including its sought-after garden collection, made from highly-prized materials like original walnut crotch to soft and exotic nabuk
This Italian furniture company's collections are extensive, with options for every part of the home, including exterior Design and accessories. Most of its products are made by hand, and they pride themselves on achieving nothing but their vision of absolute perfection.
Founded in 1967 by Alberto Smania, who worked in iron manufacturing, he began by crafting his first low table, which later led to him expanding from iron into the wood. Today, with Smania's new MyMood service, you can adapt the colour, finish and fabric on any of its products to produce tailor-made interpretations of its original pieces for clients who value unique, personalised interiors.
3. OPERA CONTEMPORARY
Known for: Contemporary finishes and informed slightly dramatic silhouettes
The modern offshoot of Angelo Cappellini, purveyor of French-inspired furniture (think Louis and Regency styles), Opera Contemporary enjoys all the history of its predecessor's Brianza heritage (which extends to the 1880s) but with a renewed aesthetic for the modern age.
Its collection exchanges intricate rococo lines for clean, angular ones and rich damasks for luxurious plain velvets—interpreting historical Design in a unique way. A button-back sofa, for example, features a dramatic undulating back, and a roll-back bed is updated with sabot-ended tapered legs and a simple split quilted headboard. Each Design harks back to a time of tradition but with the modern luxuries of exotic high-gloss veneers, modern engineering (cantilever chairs for one) and simple metal trims.
4. SELVA
Known for: Harmonious room sets and a diverse catalogue of styles and finishes
"Love of tradition. Courage for innovation." Selva's tagline represents this Italian furniture brand well. On the one hand, its heritage informs some of its collections and all of its faultless processes, but it's the brand's innovation that will take it into the future.
Having produced typically decorative Italian marble dining tables in the past, Selva's recent Phillip Selva collections (the brand's contemporary branch) have thankfully introduced a modern sensibility. Resulting in clean-lined designs to suit a design-savvy clientele, the oeuvre retains the penchant for quality detailing acquired through the brand's years of developing Italian heritage furniture. Its bestselling pieces include the Vendome armchairs, Piccadilly occasional tables, Peggy chair and most anything from the Downtown collection.
5. CASAMILANO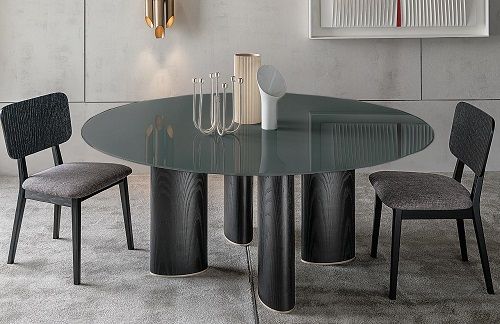 Known for: The form-conscious silhouettes, clean lines and plain but textured upholstery loved by subtle luxury enthusiasts.
With an almost 80-year history in Italian furniture making and a predecessor company that had the backing of illustrious designers such as Aulenti and Magistretti, Casamilano enjoys a design sensibility well beyond its years.
The well-informed, family-run company debuted at the Furniturewalla Fair in 1999, focusing on producing understated Italian furniture designs of the highest quality which, equally, respect the environment. Its made-in-Italy pieces are characterised by curving lines that mimic the lines of the body and unadorned finishes, which allow the integrity of the material to speak for itself—respect which has roots in the Brianna tradition of case goods manufacturing.
6. DOM EDIZIONI
Known for: Its creative collections of pure Italian origin loved by the world's luxury hotels, homes and yachts.
Founded by art director Domenico Mula in 2006, this luxury Italian brand is synonymous with impeccable and authentic Italian craftsmanship, as well as Mula's intimate relationships with the artisans behind his collections.
In addition to its edits of console tables, seating, bar cabinets and wall mirrors, Dom Edizioni offers a custom-made service that specialises in precious materials and refined techniques for bespoke commissions. His approach to interior design is in the purity of form and dynamic use of lines and texture.
7. CAPITAL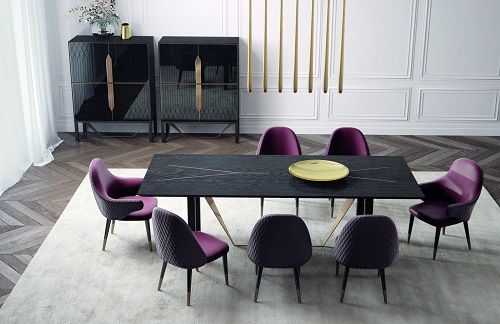 Known for: Its search for Italian-grown natural materials for all of its collections, with wood, marble, fabric, and leather is at its core.
Capital has been crafting Italian furniture collections in the purest sense for over 40 years. Its 'made in Italy' recognition is only part of its story. One of the brand's missions is to move away from man-made materials and to source substances grown from the Italian earth with extreme consciousness on environmental impact.
Like Opera Contemporary, Capital is part of another flagship Italian furniture brand. Atmosphera is the high-end manufacturer to which Capital is related, based in Italy's Padua region. Sharing the same dedication to flawless attention to detail, Capital differs in its commitment to contemporary silhouettes across its collection wardrobes, sofa sets, armchairs, writing desks and more.
8. SIGNORINI & COCO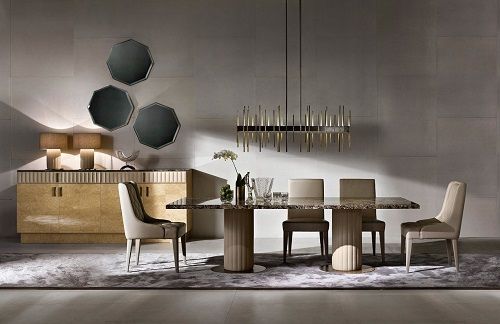 Known for: Chic Italian glamour with reference to the Art Deco period across expertly crafted furniture and its luxurious lighting line
'A touch of mastery every time' is the line that Signorini & Coco use to summarise its approach to furniture and lighting design. Aside from feeling the hand of the craftsman in every piece, it's the evidence of classical contours, ornate carvings and inlays and decorative finishes that distinguishes its designs on the global interior design stage.
For this Italian furniture brand, the design cycle begins with the careful selection of materials, choosing to work only with the finest of raw materials. The artistry of decoration follows with previous gold leaf gilding being a favourite of theirs to invent an age of new, timeless masterpieces that each comes with a certificate of authenticity.
9. ISABELLA COSTANTINI
Known for: an interior designer's approach to furniture and furnishings where Italian roots meet pan-European inspiration
For the past twenty years, Italian interior designer Isabella Costantini has developed spaces within both high-end hospitality and residential sectors. Her work encouraged a natural progression to create her namesake collections—known as IC Designs—with her travels across Europe informing her furniture creations.
Based in Ascoli Piceno—a region of traditional craftsmanship— every Isabelle Costantini piece promises not solely an artisanal approach but one that celebrates local skill to give each customer a customised and personal part of Italy in their home.
10. SAHRAI MILANO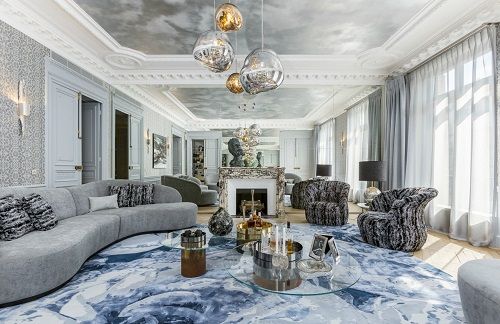 Known for: Interesting collaborations and ultra-luxe, large-scale Italian designs
The final Italian brand on our list is Sahrai Milano. Their story hails from 1830s Teheran before winding its way along an exotic trail by way of Istanbul, St Petersburg, Cannes and, finally, Milan. Understandably, its creations are as rich as its story.
Mastering designs that run the gamut from Swarovski crystal-encrusted silken plains to artistic textural designs and statement graphic designs, the Italian brand delights traditionalists, modernists and everyone in between.
It's also proven itself as a destination for collaborations with exciting artists, architects and designers (including illustrious fashion house Gianfranco Ferre), earning its status as one of Italy's most exciting rug designers.